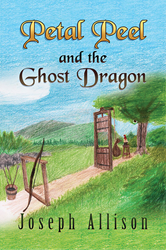 (PRWEB) February 25, 2014
Barely escaping the attack by the red sorcerer and the ghost dragon that destroyed an entire kingdom, Petal is a young girl who has grown up quietly in the countryside with her aunt and uncle. She loves the forest and all its animals, and she excels in archery and hunting skills. Unaware she is a princess, when the truth is revealed, Petal must seek her destiny as the last true heir of the kingdom.
Petal's aunt and uncle are killed before her eyes, as she escapes to begin her quest. With the black witch and the red sorcerer dogging her every step, Petal finds new friends. She matures quickly so she can strike back at the sorcerer's kingdom, only to come face to face with her most powerful enemy … the fierce ghost dragon. Who will win the climactic battle?
Watch the video on the attached pdf or at: http://www.youtube.com/watch?v=JApyoCCfGhg&feature=youtu.be
PETAL PEEL AND THE GHOST DRAGON (ISBN: 978-1-62857-198-1) is now available for $12.50 and can be ordered through the publisher's website:
http://sbprabooks.com/JosephAllison or at www(at)amazon(at)com or www(at)barnesandnoble(at)com.
WHOLESALERS: This book is distributed by Ingram Books and other wholesale distributors. Contact your representative with the ISBN for purchase. Wholesale purchase for retailers, universities, libraries, and other organizations is also available through the publisher; please email bookorder(at)aeg-online-store(at)com.
About the Author: Originally from Miami, Joseph Allison is now a student in Phoenix. The first-time author is working on his next sci-fi adventure.
Strategic Book Publishing and Rights Co, LLC