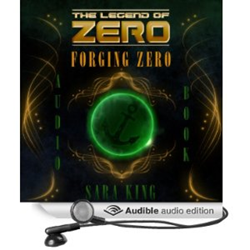 Forging Zero and Ghenna Dawn are must listens!
(PRWEB) February 26, 2014
With several new audiobooks out in 2014, Scifi Publishing lists its Top 5 selling audiobooks so far in 2014
Top Selling Available Audiobooks for 2014 include:
#1 Military Science Fiction/Alien Invasion Forging Zero by top scifi author Sara King; is the incredible story of 14-year-old Joe Dobb's epic journey in a post-apocalyptic universe following a massive alien invasion of Earth. http://amzn.to/1cciSE8.
#2 Military Science Fiction "Gehenna Dawn (Portal Wars)", written by bestselling author Jay Allan is the powerful story of future soldier Jake Taylor, who is forced from his farm life and thrown into a raging battle against relentless machines on a searing hot alien planet considered a death sentence where the life expectancy is measured in minutes. http://bit.ly/NsiRBt
#3 Coming of Age Fantasy "The Innkeeper's Son (The Harven Legacy)" written by bestselling author Jeremy Brooks; is the epic story of a world under the iron rule of a dark lord and a young Harven warrior which prophecy foretells will restore peace. http://amzn.to/194hdjB
#4 Post Apocalyptic: Science Fiction "Monsters" by bestselling author Peter Cawdron; is the incredible story of a post-apocalyptic world, where reading is outlawed, knowledge is lost and feared and monsters roam following a fallout from a passing comet. http://amzn.to/1crySkp
#5 Alternate History: "The Kronos Interference" by bestselling authors Edward Miller and J.B. Manas; is the thrilling story of Jacob Newman's discovery of time travel and his mission to travel to 1924 to kill Hitler and undo a horrific episode of Earth's violent past.
About Sci-Fi Publishing
Sci-Fi Publishing enables authors to bring their work to life, creating powerful audiobooks for Science Fiction and Fantasy fans. We partner with authors from audiobook production to marketing so they can continue to focus on their passion, creating new and amazing worlds.
For more information about us and to discover other great scifi audiobooks, visit us at http://www.scifi-publishing.com