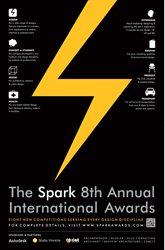 New York, NY (PRWEB) February 25, 2014
SPARK PLANS FOR 2014—TIME TO GROW
Last season Spark tested the feasibility of highly focused competitions for different design disciplines and categories. The results are clear. Measured in number of entries, Spark grew nearly 50% over 2012.
For 2014, the Spark competitions continue to explore new directions:
ŸŸ-The organizers launched Spark Health, focused on health and medical related designs, systems and facilities
-They've also started Spark Screen, for all designs delivered on a screen from Mobiles to Movies
-Spark Communication has been renamed Spark Graphic, from Print to Packaging
-The Call For Entry has been issued and the Eighth Annual Spark Awards are a GO
8X8X8
For Spark's 8th year, the awards are producing 8 different competitions with 8 different juries. These include Spark Experience, Spark Product, Spark Transport, Spark Graphic, Spark Spaces, Spark Health, Spark Screen and Spark Concept & Student Design. Judging is taking place live in Los Angeles and San Francisco.
The Spark mission is to promote better living through better design. The criteria are the same for all Spark competitions: "Does the design Spark? Does it innovate and in some way help humanity or the environment we live in? Then it's a Spark!"
WHY DO DESIGNERS ENTER SPARK?
As the Spark mission statement makes clear, "Because Spark is all about the designers. Spark shares and promotes their greatest designs, creativity, craft and innovation. We think design can make a difference and good design demands fierce dedication to sustainability. We see design as problem-solving by definition, and design work as solutions. And Spark is here to help designers get more and do more—more clients, assignments and problems to solve. And save the world!"
INTERNATIONAL GROWTH
Continuing a trend that began in 2009, entries from Asia have increased rapidly. As Spark Founder, Peter Kuchnicki stated, "We attribute Spark's growth in Asian entries to our highly visible presence, at shows, expos, exhibitions, schools and company visits. Equally important is the local determination to raise design standards to the highest international levels. Spark is a stage for these standards and the entries show the success of this strategy. The work is incredibly good, and in just a few short years."
EURO DESIGNS SPARK
Reporting from Europe, Spark friend and Director of the Florence Design Week, Alex Pumpo, points out that Spark already has a strong base of sophisticated designers joining the competitions. "Philips, Deutsche Telekom, BMW, B/E Aerospace, Ziba Munich, Springtime, dan perlman, Philipp Dettmer Design, Precipice, Designwerk, Heineken and many more are entering Spark. We hope, in alliance with the Florence Design Week, to greatly expand the European Spark Community."
NORTH AMERICA HOME TO MOST SPARKS
As would be expected, most of the entrants to these competitions are geographically close to Spark's roots in San Francisco and New York. West Coast designer, teacher and Spark founding member, Clark Kellogg said, "Just in these two city-areas alone reside the greatest concentration of designers in the world—so I would hope we had a few of them," smiled Kellogg. We do have strong representation in the US, and also many designers in Canada and Mexico. And as an architect, I especially appreciate the stunning residences we're seeing from Brasil and Chile. Bravo!"
FIRST DEADLINE IS IN JUNE
June 2: Earlybird Deadline
September 15: Standard Deadline
October 10: Late & Final Deadline
-------------------------------------------------------------
BONUS INFORMATION
Spark is proudly sponsored by Core77, ArchNewsNow, Archinect, Bustler, Pluo Consulting, Gensler, RIOT Creative Imaging and hosted by the Autodesk Design Gallery, China International Design Week and the Florence Design Week.
The Spark Design Awards core mission is to help create a better world though design excellence. The Spark competitions are open to all designers, including students (in Spark Concept). The Spark Community may be joined at no cost. The Spark competitions have a variety of entry fees, depending upon the event. Submissions are made at the Spark website. Juries, composed of design professionals and experts, meet online and in person to choose Finalists and Winners.
AllSpark Award Winners Announced
The Spark Awards "Bests of the Best" were announced at the Celebration of winners in San Francisco. These awards are given to three winning designs from 2013 that epitomize the Spark mission—Design For Betterment. The three awards are all of the same level and may come from any of our seven competitions. They are chosen by alumni Spark Jurors from 2007 to present.
Design luminary Arnold Wasserman is the AllSpark Jury chair and host. Arnold teaches at Carnegie-Mellon and is part of the Collective Invention consulting team.
The winners were:
The BMW i8, Design Lead Benoit Jacob
Door to Door For Change, Lea Ward, Creative Director
heart 2b, designer Junyoung Park
Learn more about this organization and all these competitions at the Spark website landing page.