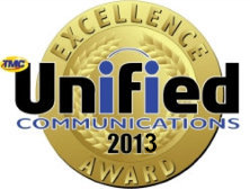 IPitomy is always looking into the future to provide the most desired, usable and innovative features and enhancements
Sarasota, Florida (PRWEB) February 25, 2014
IPitomy, a leader in VoIP unified communications platforms including premise based and virtual cloud based business solutions, announced today that TMC, a global, integrated marketing company, has named IPitomy's advanced VoIP solution as a recipient of its 2013 Unified Communications Excellence Award presented by INTERNET TELEPHONY magazine.
IPitomy, providing innovative VoIP telephony for thousands of businesses across the US, added many new features and enhancements to its already robust VoIP communications platform in 2013. Focused on the needs and desires of modern businesses, IPitomy added several features such as, Emergency Notifications, Scheduled Calls, Auto Call Recording, and Advanced Call Routing to their PBX feature set. IPitomy's new software package also added a hospitality package and enhancements such as 'In-Context' programming help, and Virtual ACD agents.
"IPitomy is always looking into the future to provide the most desired, usable and innovative features and enhancements to its VoIP platforms. Businesses today want to invest in new technology, but they want to spend their capital wisely, and we are diligent in looking for ways to provide exceptional value." Nick Branica CEO.
"It gives me great pleasure to grant a 2013 Unified Communications Excellence Award to IPitomy for its innovative VoIP solution and the team's commitment to addressing the real needs of the marketplace," said Rich Tehrani, CEO, TMC. "It's inspiring to see such commitment to excellence and I look forward to many future innovations from IPitomy."
Unified Communications Excellence Award winners are published in the November 2013 issue of INTERNET TELEPHONY magazine.
For more information about TMC, please visit http://www.tmcnet.com.
About IPitomy Communications:
IPitomy Communications is a premier pure voice over IP PBX system that is meeting a market demand internationally for a feature-rich, price competitive Unified Communications Business System. IPitomy designs and manufactures a complete line of IP telephony equipment including IP PBX Systems, IP Telephones, Desktop Call Manager and Call Center Software. For more information visit http://IPitomy.com.
About TMC
TMC is a global, integrated media company that supports clients' goals by building communities in print, online, and face to face. TMC publishes multiple magazines including Cloud Computing, M2M Evolution, Customer, and Internet Telephony. TMCnet is the leading source of news and articles for the communications and technology industries, and is read by as many as 1.5 million.