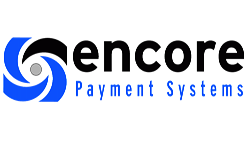 Addison, TX (PRWEB) February 26, 2014
Encore Payment Systems (Encore) is now offering GlobalBay Merchant Tablet POS to their existing and future merchants. This technology uses a merchant's iOS device as a powerful point-of-sale tool. This launch makes adopting EMV (Chip & PIN) technology simple and affordable for Encore Merchants.
EMV (Chip & PIN) technology was designed to replace the magnetic stripe technology currently used on credit cards. By coupling a 128-bit encrypted chip system with a unique PIN (personal identification number) along with dynamic digital data, this new technology promises to reduce counterfeit cards, transaction disputes, and transaction fraud; like that seen in so many recent news articles. Encore is leading the industry by making this technology available a full 2 years ahead of the government deadline. The introduction of GlobalBay Merchant solution offers current and new customers the ability to upgrade their current electronic payment equipment and meet their customers demand for safer, smarter credit and debit transactions; that protect both business and consumers alike.
Encore offers a full scale merchant solution which includes VX 805 EMV (Chip & PIN) Pinpad, iPad stand, cash drawer and bluetooth bar code scanner. Customers can choose to include an iPad in the package, or use their current one instead. Encore encourages customers to upgrade their current system now rather than waiting for the 2016 government mandate, as prices are likely to rise as the deadline looms. In addition, Encore offers expert staff support in both EMV (Chip & PIN) technology and GlobalBay Merchant Solutions; and can ease the transition of adopting this new technology.
About Encore Payment Systems
Encore Payment Systems was established for the purpose of providing electronic payment processing solutions and other value-added services to small and medium-sized merchants throughout the United States. Encore is a leader in the electronic payment processing field providing credit card, debit card, ATM card, gift card, prepaid card, EBT and check processing services. Encore maintains a sincere dedication to superior customer service and an honest and ethical approach to acquiring new customers. This vision has enabled Encore to become one of the fastest growing companies in the industry excelling in all aspects of merchant services. Encore Payment Systems is located at 3801 Arapaho Road, Addison, Texas 75001. For more information, visit http://www.encoreps.com, http://www.twitter.com/EncorePS or http://www.facebook.com/EncorePS