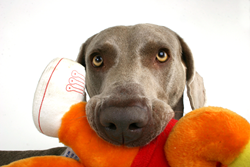 Dog incontinence is a common problem with several treatment options and solutions.
Scottsdale, AZ (PRWEB) February 25, 2014
At one time or another, just about every dog owner has discovered a puddle or wet spot somewhere in their home. A large part of the time, these puddles are accidents and isolated incidents. However, as a dog ages, a pet that has long been housetrained can experience an unexpected and uncontrollable loss of urine. While some dog owners can easily get frustrated over these accidents, the pet could actually be suffering from a condition is known as incontinence in dogs.
But what causes incontinence in dogs and what treatment options are available? Now, a resource website dedicated to helping pet owners with incontinence in dogs has been redesigned and re-launched for 2014.
"Not all dogs who appear to be urinating uncontrollably are suffering from incontinence and it's important to understand there may be other causes before heading off to the veterinarian," said IncontinentDog.net spokeswoman Marlene Fribley. "Any number of things could prompt a dog to have an accident and it's important to identify the symptoms before deciding on a course of treatment."
Dog incontinence is a common problem with several treatment options and solutions, but Fribley adds that incontinence can be symptomatic of a major health issue that can lead to severe consequences if not treated properly.
The site also covers a variety of subjects related to your dog's health, including bladder stones in dogs and urinary tract infections. In addition, IncontinentDog.net offers the best tips for cleaning up after pet accidents and reviews the top products designed to treat incontinence.
"We understand that dealing with an incontinent dog is not fun or easy," said Fribley. "Like with most things, the key is patience. It's more than likely that your pet isn't deliberately going potty in the home and perhaps the accidents will help diagnose potential problems early before they were to get worse down the road."
For more helpful tips for treating and coping with incontinence in dogs, please visit IncontinentDog.net today.