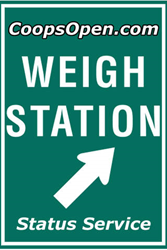 CoopsOpen.com will allow trucking companies to stay informed on where weight stations are located and whether they open or closed
Nixa, MO (PRWEB) February 26, 2014
A recent acquisition will now offer members on BulkLoads.com, formerly BulkLoadsNow.com, to take advantage of weigh station status updates through CoopsOpen.com services, expanding once again offerings to BulkLoads.com free and premium memberships.
Since it's beginning BulkLoads.com has put a priority on providing meaningful and useful solutions to its members. Staying on target with that mission, this web-based freight matching service for the bulk truck freight industry, recently acquired CoopsOpen.com. CoopsOpen.com is the first and only weigh station status service in the world that alerts carriers if weigh stations are open or closed before they reach them. The service is offered as a smart phone app and a website. It's simple, easy to use, free, and helps carriers avoid costly fines. Users can also alert other carriers and be alerted with a weigh station opens or closes.
"The majority of bulk truck freight is paid by the weights transported," said Jared Flinn, Operating Partner at BulkLoads.com. "CoopsOpen.com will allow trucking companies to stay informed on where weight stations are located and whether they open or closed."
How It Works: After downloading the iPhone or Android version of the app users simply create a free membership and will be able to log in to the app 24 hours a day, seven days a week, to see the status of any of the weigh stations in our database. After a user passes a weigh station, they will be prompted to update its status, and the other users of the service will instantly be able to see it's new status.
"We feel CoopsOpen.com complements our other online services such as BulkLoads by utilizing technology to help our members with their day-to-day business. We are always seeking new, innovative solutions for our members and we believe this is a perfect fit," Said Matt Fredin, Operating Partner on BulkLoads.com.
About BulkLoads.com
BulkLoads.com is an online community of professionals in North American's bulk freight industry. Our shipper members are transportation logistics managers of grain, fertilizer, aggregates, feed ingredients and all agriculture commodities. Our carrier members pull hopper bottoms, walking floors, end dumps, belts, live floors, pneumatics and liquid tanker trailers. We provide to our members the industry's most innovative bulk freight solutions including an enhanced load board, database of all carriers in North America, instant communication tools, industry forums and news updates and much more.