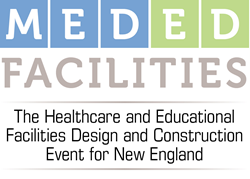 Centerville, MA (PRWEB) February 26, 2014
MED-Ed Facilities Boston, the healthcare and educational facilities design and construction event for New England, April 1-2, 2014 at the Seaport World Trade Center Boston Massachusetts announced key programs which address technical construction issues.
Avoiding Problems with Floor Finishes on Concrete Slabs
This presentation will discuss how moisture in concrete slabs leads to flooring failures and provide recommendations for mitigating the risk of failures. Recent changes in the composition of floor finishes have made these materials more susceptible to moisture-related deterioration. We will review the sources of moisture in concrete floor assemblies and the current industry tests for determining slab moisture levels. A discussion on establishing a testing protocol, interpreting test results, and understanding test limitations is included. The presentation will provide recommendations for minimizing the chances for flooring failures, mitigating existing high concrete moisture levels, and selecting appropriate floor finishes.
High Performance Masonry Design, Details and Costs
This program is designed to help the attendee understand the basic functions of the building envelope/enclosure and how masonry design and details can create high performance buildings. The presentation will specifically review insulation options and wall configurations and the resulting R-values for code compliance. Thermal mass benefits will be explored. It will also cover deign, details and cost options for several masonry materials and systems, and review other building performance requirements such as security, durability, fire resistance, blast resistance, structural integrity and life cycle costs. The presentation will include "feature projects" from the New England States.
Understanding High Performance Options for Insulation in Exterior Walls
The present seemingly prescriptive International Energy Code (IEC) requirements for insulation in building exterior walls can lead to moisture related disasters. The construction industry appears to have taken the easy route of complying with the 2006, 2009 or 2012 IEC by adopting the insulation strategies of the tables in these codes. As has been past history with national building codes, the code officials have stayed true to the "one size fits all" strategy for writing codes. These tables do not take into account the hydrothermal performance of the assemblies. This presentation will review these requirements, point out the difference between the intent of the codes and the "letter" of the codes and show why using the tables can result in problems with the performance of the building exterior walls. Also, the newly adopted ASHRAE 90.1 (2013) standard has done the industry the great service of factoring in thermal bridging into the assessment of the thermal performance of the building exterior walls. This presentation will show the positive effect on the performance of the walls and offer compliance options.
Details for the Exterior Enclosure
As codes change and products evolve, detailing the exterior wall is an ever more complex task. This session reviews current high-performance details for commercial construction, including an overview of the principles of building science and rainscreen cladding. Learn how to develop and master your details with an eye toward preventing water and air leakage, improving thermal performance and complying with NFPA 285 and other code requirements. This session includes detailing for wood frame enclosures, brick veneer enclosures, precast concrete panel enclosures, curtain walls, windows, and roof to wall connections. Our presenter is nationally recognized for his expertise in the design of building enclosures.
The educational program featuring real-world, solutions-based case studies and management discussions relating to the planning, designing, construction, and facility management of medical and educational building types. AIA Learning units are available for all sessions at MED-Ed Facilities.
Over 80 medical and educational facilities planners, building science experts and many more share their day-to-day experiences in this fast-paced profession. Here's a complete list of speakers to-date http://mededboston.com/conference/speakers/.
Sponsored by the Boston Chapter of the Construction Specifications Institute, the New England Real Estate Journal, and High Profile Monthly, this event is for the entire New England building industry.
ABOUT US
MED-Ed Facilities is produced in collaboration with Tradeshow Management Services Ltd., a full-service tradeshow company specializing in conferences and tradeshows for the design, building and construction marketplace. TMS has been affiliated with leading events including AEC SYSTEMS, ArchitectureBoston Expo
(ABX), Build Boston, Residential Design & Construction, Ecobuild America, Federal Construction Outlook Conference, BIM Expo, and Construction Technology.
CONTACT:
http://www.mededBoston.com
1-800-996-3863
fax: +1 (508) 790-4750
info(at)mededBoston(dot)com