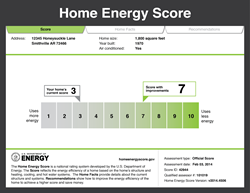 Malta, NY (PRWEB) February 25, 2014
Today the Building Performance Institute, Inc. (BPI) announced the launch of a national rating program to provide customers with an affordable, easy to understand rating of their home that can be combined with a comprehensive home energy audit. The BPI Rating Program is now available in Florida, which last July recognized BPI as one of a select group of organizations authorized to provide a Building Energy-Efficiency Rating System (BERS) in the state. BPI's program begins in Florida and is expected to be fully operational nationwide by mid-2014.
BPI is pleased to announce that it has been accepted by the U.S. Department of Energy (DOE) as a Home Energy Score Partner, and will use the Home Energy Score as BPI's rating tool. DOE developed the Home Energy Score to help improve the assessment of existing homes.
DOE's program requires all Home Energy Score Qualified Assessors, or raters, to perform assessments and generate a score through a Partner Program, with quality assurance provided by the Partner.
"There is increasing demand in the marketplace not just for a score of the home, but for a low cost, easily understood rating that, when added to a routine energy audit, increases the likelihood that the customer will go ahead with the proposed improvements," said Larry Zarker, BPI CEO.
"Like Florida, now is the right time for other states and programs to open up the ratings market to competition. BPI certified professionals are highly qualified building analysts, already in customers' homes throughout the country performing energy audits. Customers deserve the benefit of BPI certified professionals' expertise when getting their homes rated," said Zarker.
"We welcome new rating providers like BPI to serve the market in Florida, said Doug Buck, governmental affairs director with the Florida Home Builders Association, which has many members engaged in remodeling. "In the past, I had supported the idea of a sole provider at a time when the ratings and home performance industry was in its infancy. Now, as the industry has matured, with so many professionals and providers, the BPI Rating Program will bring more competition, better prices and better access to the services that raters and auditors can offer consumers to make smart choices for energy efficiency in their homes. BPI will play an important role in expanding Florida's building performance market."
DOE's Home Energy Score is like a vehicle's mile-per-gallon rating, only for homes. This federally recognized asset score allows homeowners to compare the energy performance of their home to other homes nationwide. The beauty of the score is in its simplicity – on a scale of 1 to 10, a 10 shows excellent energy performance and 1 means the home needs serious energy improvements. Unlike other rating systems tied to a specific building code, the Home Energy Score evaluates homes based on their expected performance, even if they were built before building codes existed, and shows how they can improve their score with prioritized energy conservation measures.
The Home Energy Score can also be used to support appraisals and real estate listings. The data translates easily to appraisal information, including the Green Addendum, and can easily be transported to the MLS to support energy efficiency in real estate valuation. It will help customers have a consistent frame of reference as they move between states.
To become a BPI Rater, candidates may fill out an application at http://www.bpi.org/rater. Candidates must be BPI certified as either a Building Analyst, Envelope Professional, HEP Energy Auditor or HEP Quality Control Inspector. OR candidates may hold a RESNET HERS Rater certification during their first year in the program. After their first year, BPI Raters will be required to hold BPI certification.
Candidates must also pass DOE's Home Energy Score Qualified Assessor exam. This is a one time online exam that can be taken at participating BPI Test Centers. Find a BPI Test Center near you. If you cannot find a test center convenient to you, BPI will make alternate arrangements. Contact BPI at rater(at)BPI(dot)org. For more information on BPI's Rating Program go to http://www.bpi.org/rater.
About the Building Performance Institute
BPI is the nation's premier building performance credentialing, quality assurance and standards setting organization. BPI develops technical standards using an open, transparent, consensus-based process built on sound building science. BPI is approved by the American National Standards Institute, Inc. (ANSI) as an accredited developer of American National Standards and as a certifying body for personnel credentials.
BPI offers the following:

National standards to ensure top quality, consistent protocols are being followed throughout the home performance and weatherization workforce
Certification of individuals in residential energy auditing and analysis, energy upgrade installation, crew leader, quality control inspection and multi-family designations
Accreditation of contracting companies committed to delivering quality home performance improvements
Quality assurance to verify conformance with BPI standards and provide feedback for continuing improvement
Partnership with testing organizations that deliver BPI services in their market
For more information on BPI, visit http://www.bpi.org.
Building Performance Institute, Inc.
107 Hermes Road, Suite 110
Malta, NY 12020
Phone: (877) 274-1274
Fax: (866) 777-1274
info(at)bpi(dot)org
http://www.bpi.org