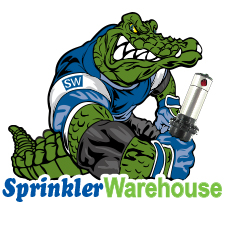 Sprinkler Warehouse is proud to be a Silver member of The Irrigation Association.
Houston, TX (PRWEB) February 26, 2014
The Irrigation Association and Sprinkler Warehouse are proud to announce Sprinkler Warehouse's recent donation and inclusion as a Silver level premium member. Out of the thousands of irrigation distributors nationwide, Sprinkler Warehouse joins only Calsense, Dig Corporation, Jain Irrigation, Inc. Nebraska Irrigation, Inc. and Valmont Irrigation as the only 6 distributors to have been granted Irrigation Associations Silver Level of premium membership.
Sprinkler Warehouse, located in Northwest Houston, Texas, is a family owned and operated online irrigation supply store. The company was started in 1996, in the garage of the founder, Steve Okelberry, and the company has grown exponentially over the past eighteen years to become today's largest online distributor of sprinkler parts in the USA.
As the "Do-It-Yourself Sprinkler Store," Sprinkler Warehouse has always aimed to empower the average home owner with the tools, knowledge and parts they need to save money by performing their own sprinkler and irrigation repairs and installations. They have always been focused on building a business that does more than just sell parts to customers -- and have paid it forward by developing the most thorough and complete (and always updating) compilation of informative articles, videos and easy to understand "how to" demonstrations on sprinklers & irrigation found online, anywhere. All of which is offered 100% free of charge to help do-it-yourselfers to get the job done without having to call a plumber or contractor.
To further validate their position and reputation in the irrigation community, Sprinkler Warehouse has upgraded their Irrigation Association premium membership to the Silver level. Their donation will help them to further Irrigation Associations efforts to develop industry standards & regulations, educate front line irrigation professionals and work to improve the public perception of irrigation.
This highly regarded membership designation provides Sprinkler Warehouse additional member benefits, in addition to increased industry exposure through Irrigation Associations media channels and exclusive marketing and advertising discounts.