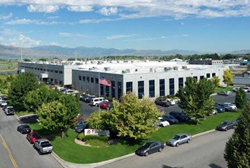 Orem, UT (PRWEB) February 25, 2014
High-speed blender manufacturer Blendtec today announced the planned release of 10 new residential blender models retailing from $299 to $999 in the next 12 months, marking the highest number of annual product introductions as well as the broadest price range in its 25-year history. The company also is investing $10 million in new equipment and technology to support the expanding product line and increase manufacturing capacity at its 270,000-square-foot plant in Orem, UT.
The first model in the new series will be introduced next month at the International Home + Housewares Show in Chicago. Priced at $649, it will be the world's most advanced home blender with a 1700 watt motor, innovative design features that enable a true commercial-like blending experience at home, and "blender with a brain" capabilities that deliver never-before-possible control over the blending process.
Blendtec's aggressive road map follows a year of record sales fueled by rising awareness of the benefits of high-speed blenders for making healthier foods like smoothies, the ability to replace other appliances like coffee grinders, juicers and food processors for "one machine does it all" simplicity, and consumers' search for safer blenders in the wake of 2013 recalls by Vitamix, Frigidaire and Calphalon caused by breaking blades.
With blades that are 80% thicker and 10 times stronger than those from other manufacturers, Blendtec has never broken a blade or had to issue a safety recall. The durability of the blade has been displayed repeatedly in the company's 'Will It Blend?' videos, where the company's blenders have safely pulverized everything from smartphones to golf balls.
"The popularity of smoothies has exposed a weakness in most blenders: blades that break when they hit hard foods like ice and frozen fruits. It's not only a safety concern but also an issue of buying a blender that lasts," said Blendtec CEO Craig Taylor. "This has created a demand among both consumers and retailers for commercial-grade blenders like ours that are both safe and durable. The new machines we are introducing this year will meet that demand with a choice of feature sets and price points to fit every home budget and retailer merchandising strategy."
All new Blendtec models will feature the company's patented blade, unique metal drive sockets connecting the jar to the blender base that do not break like competitors' plastic components, and industrial-strength 1525-1875 watt motors that produce the market's fastest and smoothest blends while also increasing safety by having the power to drive Blendtec's blunt and thick blade. The smaller motors used on all other residential blenders have only enough power to spin smaller, thinner blades that are prone to breakage.
Blendtec's plant upgrade began in January. It is the first major capital project since a 100,000-square-foot expansion in 2011. More than 350 people work at the company's headquarters and production facility, with 100 sales representatives around the country and the expected addition of 100 employees this year to support the expanded manufacturing capacity and business growth.
About Blendtec
Blendtec designs and manufactures the world's safest and most powerful high-speed commercial and residential blenders. All Blendtec blenders are designed and assembled in the USA at the company's Orem, Utah facility. For more information, visit http://www.blendtec.com.