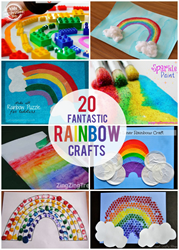 Celebrate St. Patrick's Day with rainbow crafts.
Dallas, Texas (PRWEB) February 26, 2014
Rainbow crafts are a perfect spring activity. Fantastic rainbow crafts and fingerless glove patterns have been released on Kids Activities Blog. With the cool air in the morning the fingerless gloves become a handy accessory.
Kids love rainbows because they are so bright and colorful. They are also great for celebrating the upcoming St. Patrick's Day. Among the many ideas are building rainbows with LEGOs, painting rainbows with marshmallows, cutting felt to make a rainbow puzzle, and crating adorable rainbows with cupcake liners.
Other ideas include paper plate rainbows, making a rainbow out of colorful fruit loops, and making sparkling rainbows out of homemade sparkle paint.
The handy fingerless glove patterns are easy to make even for the novice seamstress. They also do not take up a lot of space and are perfect for the cool morning air on the way to school.
It does not take much to make them except keeping the kids still enough to trace their hands. Materials needed are a paper, a pencil, and a piece of fleece. There are five easy steps to make the gloves. Trace the hand on a piece of paper. Pin the paper to the fabric and sew the fabric according to the instructions. Ready are the handy gloves.
For detailed instructions and to get additional fun ideas, check out Kids Activities Blog this week. Come get inspired to do fun spring activities together with the kids.
About Kids Activities Blog
Kids Activities Blog is a website created by two moms (who collectively have 9 children), Rachel Miller and Holly Homer from June Cleaver Nirvana. It is their daily goal to inspire parents and teachers to play with kids. This interactive website publishes simple things to do with kids twice a day. Kids Activities Blog is a great tool for moms and teachers to find kid-friendly activities that create memories and sneak learning into the fun.