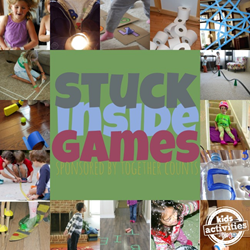 Play a balloon tennis game or animal charades inside.
Dallas, Texas (PRWEB) February 24, 2014
There are always days when kids are stuck inside to play. Fun stuck inside games and a cute owl craft have been released on Kids Activities Blog. Get ready for fun games for kids of all ages.
Active things to do, when kids are stuck inside the house, include building an entire cross country ski set out of cardboard. This is one of the most ingenious ways to recycle cardboard boxes.
Other fun ideas include a toddler approved balloon tennis game, a flashlight game, a marble run, a Super Mario obstacle course, an animal charade, a fake snowstorm, and pillow case races.
A milk jug toss, an indoor snowball fight, a spider web for kids, and building a highway road inside the living room are all great ideas to keep the kids plenty occupied during a rainy day.
The owl craft is super cute and best of all easy to make. Materials needed are the downloadable owl print, a scissor, and a glue stick. Leftover craft supplies such as pom poms, feathers, or glitter paint make extra cute owls.
Other tips include a variety of colored paper to create a whole owl family. Let the child's imagination run wild with creating a the owl.
For detailed instructions and to get additional fun ideas, check out Kids Activities Blog this week. Come get inspired to let the kids have fun this week.
About Kids Activities Blog
Kids Activities Blog is a website created by two moms (who collectively have 9 children), Rachel Miller and Holly Homer from June Cleaver Nirvana. It is their daily goal to inspire parents and teachers to play with kids. This interactive website publishes simple things to do with kids twice a day. Kids Activities Blog is a great tool for moms and teachers to find kid-friendly activities that create memories and sneak learning into the fun.