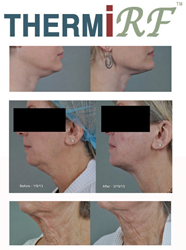 Southlake, TX (PRWEB) February 25, 2014
The skin tightening market has been glutted with ineffective technologies that have promised results they cannot deliver, frustrating patients and doctors alike. ThermiRF™, the first FDA-cleared temperature controlled radiofrequency system, by ThermiAesthetics™ breaks the mold. In an 18-person study, published this month in the Journal of Drugs in Dermatology, leading cosmetic dermatologist Dr. Douglas J. Key concluded that with just one pain-free treatment, ThermiRF provides a safe and effective solution for skin laxity in the lower face and neck (ThermiTight™).
"This is the future of skin tightening," said Dr. Douglas Key, a board certified dermatologist and founder of the Key Laser Institute. Previous radiofrequency devices have required multiple treatments and offered unpredictable results. ThermiRF delivers radiofrequency heat energy in conjunction with Thermal Image Monitoring™. This advanced infrared imaging allows medical professionals to see and direct heat at all three layers of the skin, achieving optimal skin tightening results in a single treatment.
"Thermal Image Monitoring lets us create patterns of heat energy that are safer and more even than ever before," Dr. Key said. Additional safety measures include an auto shut off feature that is triggered when temperatures rise above predetermined levels. This allows the device to heat the skin to the high temperatures required for collagen remodeling without risking epidermal burn.
The study showed statistically significant results after just one treatment with little or no downtime. Patients reported a high degree of comfort and no pain during or after the procedure. Redness and swelling, if any, subsided within a few hours. Patients reported no discomfort or soreness post treatment and showed no pigmentary alterations or scarring.
ThermiRF treatments are available at select physician clinics throughout the United States and internationally. A number of additional studies are planned and underway to further demonstrate the safety and effectiveness of ThermiRF for a number of cosmetic conditions such as axillary hyperhidrosis, cellulite, snoring and post-child bearing vaginal laxity.
For more information, please visit http://www.thermi.com.