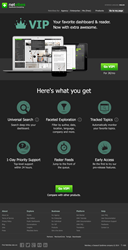 Now, our VIP users can search and track any topics within the perimeter of the Internet that matters to them.
San Francisco, CA (PRWEB) February 26, 2014
When Netvibes launched the VIP program, back in 2010, goal was mainly to offer support for all the important projects that individual professionals and non-profits were doing on Netvibes.
Introducing the New VIP status: Your favorite dashboard & reader. Now with extra awesome.
Universal Search: Universal Search finds everything within the full content of the article, not just the RSS feed. Until now, Universal Search [http://blog.netvibes.com/universal-search-for-netvibes-premium-search-faster-better/ was only available through a Premium subscription. It now comes standard with all VIP account.
Faceted Exploration: Search deep into your dashboard. Get even more relevant results as the query is refined with the easy use of one-click visual filters. Our super powerful search engine (Exalead [http://www.3ds.com/products-services/exalead ) automatically detects authors, media support, locations, languages, etc.
Tracked Topics: Automatically monitor favorite topics. Save any search queries to easily follow topics that matters most. And Netvibes will keep on watching and updating automatically so nothing will be missed.
Faster Feeds: Jump to the front of the queue. Get updates from all sites delivered sooner. VIPs deserve the fastest line, don't they?
And of course, all previous VIP benefits:
1-Day Priority Support: Top-level support within 24 hours. Guaranteed answers and help on any Netvibes.com dashboard or development project within 24 hours.
Early Access: Be the first to try our pre-release features. Exclusive invitations to try our latest new features and dashboard design tools first before they are available to the public. An example? Current VIPs were the first to test the New Reader and they are already beta-testing the new VIP program.
Netvibes users can upgrade to this new VIP status for only 2€/mo. (in one single transaction for the full year ahead)
"Now our VIP users can search and track any topics within the perimeter of the Internet that matters to them," says Freddy MINI, Netvibes' CEO, "and this allows for no noise, no waste of time."
Ready to upgrade? Head for the VIP subscription page and join the program.
Got remarks or questions? Leave them in the comments below or contact us at http://www.netvibes.com/en/contact.