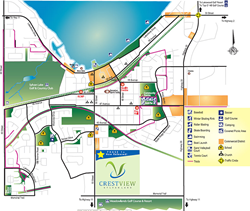 "We're happy to see deposits for lots coming in quickly. It tells us buyer's confidence has returned to the Central Alberta real estate market."
Sylvan Lake, Alberta (PRWEB) February 25, 2014
There are new Sylvan Lake homes for sale in the prestigious hills of Ryder's Ridge. Home builders in the area are working hard to have Crestview's Phase 1 completed as the entrance sign has just been installed. Crestview is starting to look like a real neighborhood with the new playground equipment which arrived on site last week. Phase 1 will be completed this spring and Phase 2 by the fall, but the five show homes will be ready for walkthroughs within the next couple of weeks.
Crestview is situated on the rolling terrain of Ryder's Ridge, which is Lamont Land's second community in Sylvan Lake. Lamont Land is a local developer that has a reputation for working with home builders who care. Lamont Land's first development was Ryder's Ridge, which won the "Best New Community" award in Sylvan Lake by the Canadian Home Builders' Association. Crestview will continue on the same path of quality and prestige that the current homeowners of Ryder's Ridge have come to know. Crestview's name was taken from the neighborhood's wonderful view situated on the highest point within Sylvan Lake. The neighborhood offers spectacular views of the lake and surrounding areas.
Candel Homes is one of five local home builders that will be opening show homes in the new neighborhood mid-March. Steve Booth, owner/manager of Candel Homes said that "We're happy to see deposits for lots coming in quickly. It tells us buyer's confidence has returned to the Central Alberta real estate market."
Steve Booth also commented "Just last week we opened another show home on Healey Street in Penhold, Alberta." A healthy market is great news for Central Alberta's economy. Central Alberta offers award winning communities perfect for raising a family or settling down for an early retirement.
Candel Homes anticipates a busier year this year than 2013 and has launched a new website which includes more information on new developments like Crestview. Steve Booth noted that "Choosing the right home builder to construct your home involves a series of questions from the quality of materials and craftsmanship to the customer service you get along the way. The new website provides that information."
Candel Homes builds homes in Sylvan Lake, Red Deer, Penhold, Blackfalds and the surrounding areas of Central Alberta.