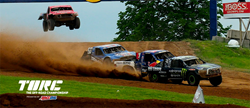 Dana Point, Calif. (PRWEB) February 25, 2014
TORC: The Off-Road Championship, the nation's premiere short-course, off-road racing series, has announced that VP Racing Fuels will be its Official Fuel for the 2014 season. All TORC competitors will be powered by the company's high-performance racing fuels beginning with the April 5-6 'Duel in the Desert' race in Primm, NV.
As part of its sponsorship, VP will establish a contingency program to reward racers based on performance parameters. In addition, VP will provide trackside fuel service at each event, which will include an online pre-order procedure to provide for convenient delivery of specific fuels to teams at the track.
"We believe in BJ Birtwell's vision for off-road racing and are excited to partner with him and his team as the Official Fuel of TORC," said Steve Scheidker, VP's Director of Marketing. "Over the years, VP has become the fuel of choice for many TORC competitors, so the partnership is a natural fit. It also provides a unique opportunity to build awareness for VP Racing Fuels and our growing roster of consumer products, as well as the VP-branded gas stations that are part of our retail branding initiative."
As the Official Fuel of TORC, VP will gain extensive brand visibility through media exposure including television, radio, print, digital and social media as well as display space, track signage and fan activation at TORC events.
"We are very proud to have a partner with the stature of VP Racing Fuels join the TORC team as our Official Fuel," said TORC President BJ Birtwell. "VP has an extraordinary legacy in motorsports, and it's exciting to be part of that family. We're also confident that our drivers will appreciate the performance benefits of VP Racing Fuels."
For more information on this fuel program, please contact alison(at)torcseries(dot)com.
TORC: The Off-Road Championship will hold seven events across the United States this year, with NBC Sports providing television coverage and a behind-the-scenes docu-reality series. The 2014 event schedule features races at the following venues:

April 5-6: Primm, NV (Primm Off Road Raceway)
April 25-26: Charlotte, NC (Charlotte Motor Speedway)
May 17-18: St. Louis, MO (Gateway Motorsports Park)
June 28-29: Crandon, WI (Crandon Int'l Off Road Raceway)
July 19-20: Bark River, MI (Bark River Off Road Raceway)
Aug 5-6: Sturgis, SD (Buffalo Chip Powersports Complex)
Aug 30-31: Crandon, WI (Crandon Int'l Off Road Raceway)
For more information on TORC: The Off-Road Championship including NBC Sports episode premiere dates, visit http://www.torcseries.com or find TORC on Facebook at http://www.facebook.com/torc and Twitter @TorcOffRoad.
More information about VP Racing Fuels products is available online at VPRacingFuels.com, while technical questions regarding VP fuel blends and tuning can be directed to VP's full-time Tech Support staff at 812-878-2025 or tech(at)vpracingfuels(dot)com.
###
About TORC
TORC: The Off-Road Championship presented by AMSOIL is the nation's premiere short-course, off-road truck racing series. Known as a collision between action sports and motorsports, TORC is the ultimate battleground for 900-horsepower race trucks competing to win the prestigious TORC National Championship. Fans from all over the world enjoy TORC through high-energy events as well as the TV broadcasts on NBC Sports. For series partnership information or racer inquiries, email info(at)torcseries(dot)com or visit http://www.torcseries.com.
About VP Racing Fuels
VP is a world leader in race fuel technology, with more than 70 fuel blends in its portfolio and an ever-growing roster of VP-fueled champions across the entire spectrum of motorsports. In addition to its new commitment with TORC, VP's motorsports involvements include many notable racing series like NHRA Championship Drag Racing, Tudor United SportsCar Championship, AMA Supercross and World of Outlaws Sprint Cars, among more than 60 VP-sponsored race organizations. In addition to racing fuels, VP's product line includes VP Small Engine Fuel for 2- and 4-cycle outdoor power equipment, VP PowerMaster® hobby fuels for R/C racing, VP Madditive™ performance chemicals, and VP PowerWash™ cleaner for cars, trucks and powersport equipment. More information is available online at VPRacingFuels.com, VP-SEF.com and PowerMasterFuels.com.