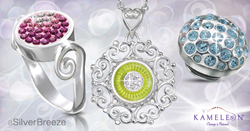 With St. Patrick's Day approaching, A Silver Breeze is announcing a Claddagh Birthstone Necklace giveaway.
New York, NY (PRWEB) February 25, 2014
A Silver Breeze is excited to launch the Kameleon JewelPop Contest. Participants can enter online or through Facebook at http://www.facebook.com/asilverbreeze, for a chance to win $250.00USD worth of Kameleon and JewelPop jewelry. Contestants also get an extra chance to win every time a friend accepts their invitation. Four winners will be announced on the last day of every month until March 2014. Purchases are not required.
With St. Patrick's Day approaching, A Silver Breeze is also announcing a Claddagh Birthstone Necklace giveaway. For a limited time, with every purchase of $125.00USD or more, customers receive a free Claddagh Birthstone necklace (valued at $45.00USD). Each sterling silver Claddagh necklace is adorned with a heart-shaped genuine stone available in 14 vibrant colors, including every birthstone color from January to December as well as Smoky Quartz. The design of the Claddagh pendant is based on the traditional Irish Claddagh rings, which were given to family and loved ones as a symbol of love, loyalty and friendship.
For further information regarding contest rules and regulations, to participate and to make purchases please visit A Silver Breeze online at: http://www.asilverbreeze.com.
About A Silver Breeze
A Silver Breeze was founded with a philosophy in mind: give women the freedom to be themselves and embrace a sense of style that's unique and their own. A Silver Breeze offers women quality jewelry that is interchangeable from brands like: Kameleon, Chamilia, Bella Ryann, Lenny & Eva, Chrysalis and Swarovski. You will also find gifts and other accessories from brands like Natural Life, WeWOOD and Bering Watches.
Stores are located at the Aviation Mall in Queensbury, New York and at 516 Broadway in Saratoga Springs, New York. All available collections can also be purchased at the A Silver Breeze online store. A Silver Breeze ensures every customer's shopping experience to be an unforgettable one.