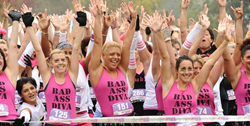 We got the girls together and made it a 'Girls WEEKEND Out'. It was a perfect weekend with my friends.
Boulder, CO (PRWEB) February 26, 2014
As the 2014 SHAPE Diva Dash season kicks into high gear, Adventure Fit, the Boulder-based sports marketing company that produces the event, is raising the bar to deliver an experience unprecedented in the women-only obstacle run niche.
Now in it's fourth year, The SHAPE Diva Dash was the obstacle run designed exclusively for women. Josh Kravetz, the owner of Adventure Fit and the creator of the SHAPE Diva Dash, discovered a winning combination when he decided to combine a 5K off-road run with obstacles spaced throughout the course to eliminate the tedium of a straight through run. He took out the men and the mud, and the formula proved to be instantly successful: A challenging event, but one that any woman could complete if she set her mind to it. The fact that it encourages empowerment, sisterhood, and collaboration rather than simply competition is also a bonus.
Having some history has helped this year's Diva Dash series to evolve into an event that caters to participant's wants, needs, and expectations.
For example, participants wanted variety and challenge so Adventure Fit designed new obstacles and added more of them keep the race exciting and fresh for participants who return every year. A few to look for this season include the Alpiner, a challenge inspired by rock climbing, and the Fireman's Pole, a tricky climbing/sliding contraption unique to the Diva Dash. To stay true to the Diva Dash mission, which is to produce an event at which all women can be successful, regardless of their age or ability level, many obstacles have different challenge levels so participants can select easier or more difficult options.
Participant also expressed that they wanted to give back, so the Adventure Fit team implemented a fundraising campaign that allows runners to support the charity of their choice. Runners may request a customized coupon code to distribute throughout their network. Each time the code is used, Adventure Fit donates $5 to the specified charity. "We are pleased to see women working hard to support the causes that are important to them," says Kravetz. "It's also gratifying to be able to support a plethora of non-profit organizations in each market." Adventure Fit also selects a several non-profits, typically women's advocacy groups, to work with in each market.
In 2014, the SHAPE Diva Dash will visit 10 cities. The season opener is in Dallas, Texas on March 22. It also visits Austin (April 12), Denver (May 10), Twin Cities (May 31), Charlotte (June 21), Chicago (August 2), Washington D.C. (August 16), Boston (September 6) and New York (October 11).
Registration is now open at http://www.DivaDash.com.
Find out more at http://www.divadash.com.
Follow the Diva Dash on Facebook.
About Adventure Fit
At Adventure Fit Inc, we live for fun outdoor adventures. Our passion shows in our work through every event, team, and experience we create. Founded on the slogan "Come out and Play!", Adventure Fit has produced some of the country's most popular participatory sporting events. Our events are not only fun and unique, they also have a deeper goal: to open the eyes of our participants to a world of greater social and environmental responsibility. We partner exclusively with companies that have sustainable business practices and give back to non-profits around the country. For more information, visit http://www.adventurefit.com.
About SHAPE
SHAPE, the flagship brand of American Media, Inc.'s Women's Active Lifestyle Group, reaches 6.2 million active readers and is number one in circulation, ad pages and 13 worldwide editions. SHAPE connects with women throughout their daily lives with its innovative brand extensions, including online, email, mobile efforts and award-winning consumer events.
For 30 years, SHAPE has been the "how to look and feel amazing" resource of active, confident women everywhere. We help our readers achieve balance in all areas of their life by providing trusted wellness information, sophisticated style editorial and steps for positive change in every issue and monthly on SHAPE.com. We not only inspire women to set life-improving goals, but also provide the tools necessary to reach them.