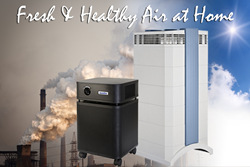 People spend the bulk of their time indoors, therefore purchasing a high quality air purifier is a smart investment that will greatly benefit their health and quality of life.
City of Industry, CA (PRWEB) February 28, 2014
The air quality in the western United States has seen better days. According to a new study in the journal Proceedings of the National Academy of Sciences, air pollution from manufacturing plants Overseas can contribute up to 12% to 24% of daily sulfate concentrations to the West Coast. Westerly winds regularly drive airborne contaminants across the Pacific Ocean, adding dust, chemicals and carbon monoxide to the atmosphere in California and beyond. The study found that the city of Los Angeles sees at least one extra day a year of smog that exceeds federal limits because of pollution emitted by oversea factories producing products for export to other countries like the US, ironically. While this is a very disturbing trend, domestically produced air pollution is still the main culprit to American air problems, and US based industries and automobile emissions still make up the bulk of the smog in larger cities. The current drought in the Southwest has only made problems worse, as the lack of rainfall that is necessary to scrub the air means pollutants remain airborne where they are most dangerous to sensitive lungs.
Poor air quality is a serious environmental and health concern. A 2010 report from the American Heart Association concluded that short term exposure to air pollution can increase the risk of heart attack, stroke, and heart failure in people with pre-existing health and immunity issues. Long term exposure is even worse and plays a role in high blood pressure, heart disease, diabetes and lung cancer. While people have little control over environmental air pollution, they can improve the quality of the air in their homes and workplaces through the use of HEPA and chemical air purifiers.
Air purifiers are filtration systems designed to remove a wide range of harmful pollutants including airborne particles, chemicals, germs and allergens. High performance air purifiers typically offer multiple stages of filtration including a pre-filter, HEPA filter, and gas-removing adsorptive media. APEC Water is an American company that specializes in air and water purification systems for the home and office. For families wanting to effectively treat the air in large living areas, they recommend purifiers with a minimum of 30 sq ft of HEPA with 5-6 pounds of carbon media, which are powerful enough to recirculate the air volume of a large room several times per hour. "At APEC, we are proud to offer the highest quality, large capacity air purifiers which can provide comprehensive protection from the widest range of air contaminants," says Henry Truong at APEC. "People spend the bulk of their time indoors, therefore purchasing a high quality air purifier is a smart investment that will greatly benefit their health and quality of life." APEC is an official provider of Swiss-made IQAir, a premium line of feature-rich purifiers; and Austin Air, a robust line of American-made systems.
About APEC Water
For over 17 years, APEC has been an industry leading provider of residential and commercial home purification systems. Based out of Southern California, APEC offers high quality air purification systems along with their signature reverse osmosis drinking water systems and backwashing whole house water filters. The company offers their products exclusively through their website at Freedrinkingwater.com which also provides extensive information on environmental water and air pollution through their online library. To learn more about APEC Water, please visit http://www.freedrinkingwater.com or call 1-800-880-4808 for more information.