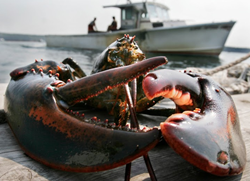 (PRWEB) February 25, 2014
Mainers are usually used to long winters, but even the staunchest of landlubbers and lobstermen have started referring to this one as "The Never-ending Winter." What's more, it hasn't affected only the usual regions of the nation. Americans everywhere, even in the southern states, have endured at times baffling displays of cold and snow.
Now the sun is higher in the sky, and the daylight hours are a little longer, providing encouragement that spring is on the way… some time. Yes indeed… some time.
Fortunately, just when it seems impossible to take one more snowfall, or bundle up from head to toe one more time, comes a snippet of inspiration to avoid the winter slump.
Enter the chipper GetMaineLobster.com team, who recently huddled up to share some thoughts on how to stay motivated in the face of the cold, dark, and deep snow in Maine:
1. Plan something to look forward to. "Yes, even if the doldrums have gotten the best of you, make yourself plan an event that will force you to get up and do something – preferably with others," says CEO Mark Murrell.
The GML team talked about putting on an indoor lobster bake, with a newspaper tablecloth, summer music, and a lot of bright, colorful flowers, where everyone wears a favorite summer outfit and contributes to the feast. Of course, nothing says summer like a good old-fashioned Maine lobster bake!
2. Get moving. Whether it's the local gym or just grooving in the kitchen to the tunes, move it! We all know the physiological benefits we get from exercise – it doesn't matter what it is. Moving every day for 30 minutes straight helps elevate the heart rate, and that tends to elevate the mood. "If you find yourself in Maine," says Murrell, "try going to the local dock and offering to help a lobsterman haul his traps." If that's not quite convenient, try marching in place while talking on the phone.
3. Find a favorite place and "chillax." It might be a favorite hill, trail, or store. It might be meditating at home, sitting quietly while listening to a favorite piece of music. "Whatever you do to create a space to unwind," says Murrell, "don't shortchange yourself and do it every day."
4. Go social seeking. There's no way around it; human beings are social animals. People thrive naturally when connected. Make the effort to engage in no fewer than three good conversations daily with others. Talk about hopes for the summer, like a lobster bake at the beach with friends and family. It'll bring consciousness beyond the personal bubble.
5. Embrace rather than endure the winter. Attitude is everything. The season is a fact. There's got to be something about winter to like. Maybe it's not the cold or the snow. It might just be the musical event at the local coffee shop every Friday or a mystery book club at the library. Or it may be that things slow down a little, allowing the precious time to attack unfinished projects, such as sorting favorite recipes (lobster).
About GetMaineLobster.com:
GetMaineLobster.com, a division of Black Point Seafood and Black Point Gourmet, hand-selects the finest Maine lobster, seafood and beef products for convenient distribution throughout the United States. Their passion is to make fresh, quality seafood readily available to customers across the country, which is why they buy from only the most trusted, well-established suppliers to ensure that they receive the finest products available.
GetMaineLobster.com was selected out of the more than four million small American businesses served by Chase bank to represent its new Platinum Business Checking product for its 2013 national advertising campaign.