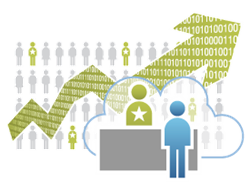 San Diego, CA (PRWEB) February 26, 2014
Kiran Analytics – a leader in intelligent branch transformation – announced today that it will be a Silver Sponsor of CBA LIVE 2014. This premier event of the retail banking industry will be held in Washington D.C. on March 31st - April 2nd. Attendees of the conference will learn how Kiran's innovative, predictive analytics-driven solutions are propelling branch transformation for leading retail banks, and will have the opportunity to meet with Kiran's thought leaders and clients at Business Executive Interaction Meetings.
Pre-conference Workshop
Jim DeLapa, CEO of Kiran Analytics Inc., will moderate "Driving Successful Branch Transformation Through Workforce Planning."
When: March 31, 2014
Summary: Everyone agrees that the role of the branch is changing fast. With more than 80,000 branches in the US today, effectively and efficiently operating these branches is paramount and is only made more complicated by continuing channel migration. It is not as simple as closing branches or implementing a universal banker position. Some of the questions this workshop will answer include:

How is channel migration impacting the types of people hired to work in the branches today?
Can banks reduce staffing levels, while maintaining service levels and increasing profitability?
In an era of such rapid change, is the annual exercise of capacity planning sufficient?
What are leading banks doing to optimize their workforce?
Speakers:
Randa Brandt, Vice President and Manager, Regional Resource Planning, Wells Fargo Bank, N.A.
Jeffrey Hooper, Executive Vice President, Retail Banking Manager, SunTrust Banks, Inc.
Mark Rendulic, Executive Vice President, Retail Banking, First Niagara Bank, N.A.
Business Executive Interaction Meetings
When: March 31 – April 2, 2014
Where: Meeting Room #4, across from the Potomac Ballroom where the General Sessions will be held.
Summary: Kiran executives and its Retail Banking Advisory Board members will be meeting with executives of retail banks to discuss their branch transformation insights related to strategic workforce planning, talent analytics, and tactical labor forecasting and scheduling. Kiran's Retail Banking Advisory Board members are:
Gene Kirby, former Chairman of CBA
Betty Cowell, former Vice-Chair of BAI
About Kiran Analytics Inc.
Kiran Analytics drives intelligent branch transformation for retail banks through the application of predictive analytics, resulting in increased sales and service effectiveness, and reduced operational costs. Kiran's solutions have been deployed in over 10,000 branches; helping forecast branch staff levels accurately, hire better people faster, and to plan and schedule resources efficiently. For more information, visit http://www.kiran.com.