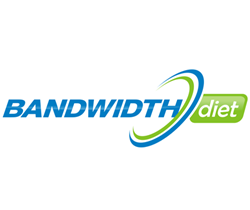 South El Monte, CA (PRWEB) February 25, 2014
As online store owners know, more visitors are a good thing and high traffic is the key to online sales – but these come at a cost of heavy bandwidth usage. Pictures, videos, JavaScript files, are among many files downloaded by visitors.
Hosted Shopping cart platforms like Volusion, 3dCart, CoreCommerce often provide just enough bandwidth for store owners to get by and limits can be quickly exceeded, leaving heavy traffic sites with a hefty bandwidth overage bill every month.
Enter BandwidthDiet, a bandwidth optimization company looking to save online store owners up to half off their bandwidth overage costs. Using an independent worldwide network of servers, BandwidthDiet serves up files that customers would otherwise download and have metered against bandwidth allowances.
Speaking on the importance of helping other businesses to grow and earn more, BandwidthDiet founder Byron Hsu said, "Ecommerce companies have enough costs and challenges to worry about - counting their bandwidth usage should not be one of them. I'm proud to offer a service that helps small business owners keep their hard-earned dollars and continue growing."
Services provided by BandwidthDiet include:

Bandwidth optimization and savings
Cut out your excess data charges and reduce monthly fees. BandwidthDiet serves your content to customers and viewers instead of your expensive host. Static files are cached so that images, CSS, JavaScript and other static content are optimized for savings. Using a proprietary software platform, most clients can see a 55% savings on bandwidth.
Faster page loads from local CDNs
Page loading speed is a critical factor in conversion rates as well as search rankings. In addition to saving you money, BandwidthDiet speeds up your site at the same time. To further increase website speed, the company offers a global network of CDN servers to deliver content to customers fast. The network spans over thirteen locations all over the world, including six major U.S. cities so visitors receive your content from the closest possible server so that customers wait less and shop more.
After a 5-minute setup, BandwidthDiet handles the rest behind the scenes, leaving you to focus on running your business. New products? New Images? No problem, syncing is processed automatically. Bandwidth optimization is handled on-the-fly while store owners enjoy the savings.
Receive help and technical support from dedicated account managers. Real people with experience stand by to address your issues or concerns.
ABOUT BANDWIDTHDIET
Headquartered in South El Monte, BandwidthDiet is a privately-held, self-funded internet company founded in 2012. BandwidthDiet develops and markets proprietary software for saving money on bandwidth for those using hosted shopping carts as Volusion, 3DCart, CoreCommerce, MagentoGo, AmeriCommerce, PinnacleCart, among others. BandwidthDiet provides one of the most reliable and trusted services that save business owners big while improving sales! As a full-service company, we handle the entire process from start to finish. For more information, please visit http://www.bandwidthdiet.com and follow us on Twitter @bandwidthdiet.
MEDIA CONTACT
Olga Golub
MarCom Manager, BandwidthDiet
Olga(at)bandwidthdiet(dot)com
+1 626 231 07 23
Bandwidthdiet is registered trademark of Bandwidthdiet LLC in the United States. Other trade names or words used in this document are the properties of their respective owners.