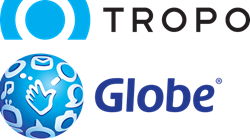 Our partnership with Tropo opens up a new world of possibilities for application developers and solution integrators.
Menlo Park, CA and Manila, Philippines (PRWEB) February 25, 2014
Tropo Inc., the leader in real-time telco APIs, announces today that Globe Telecom, known for its innovative product and services, will be launching Tropo's advanced voice API in the Philippines market in March.
The new API will allow both Globe Telecom's internal service creation teams and the Globe Labs Developer community to create innovative services and solutions at an even faster pace. With this launch, Globe has become the latest addition to Tropo's carrier partners including AT&T, Deutsche Telekom and China Telecom.
Tropo's highly scalable and flexible Communications API Solution goes beyond simple voice functions to provide developers with a rich set of capabilities such as call control, call management, text to speech, speech recognition, messaging, and recording. With the launch of Tropo, Globe is planning to create new revenue streams by enabling software developers to integrate voice and messaging functionality into their applications using common programming languages. Developers can then focus on optimizing customer experience and reaching their audiences.
Glenn Estrella, Vice President for Digital Media at Globe said, "Our partnership with Tropo opens up a new world of possibilities for application developers and solution integrators. Tropo's advanced voice API allows third-party developers to develop voice-based applications using the voice over internet protocol or VOIP to Globe subscribers such as Interactive Voice Recording that perform conferencing, recording, voicemail as well as content and information retrieval, among others."
"We are very excited to collaborate with Globe Labs in the Philippines and help local developers to integrate communication functionality in their applications in order to enhance customer experience and engage with their customers in meaningful conversations," said Jason Goecke CEO of Tropo.
"Globe has been a true pioneer in the global telecom industry by establishing the first of its kind lab in the region with the sole purpose to serve its customer base with a new breed of communication services that will be developed in cooperation with local entrepreneurs. We believe the new services will address important needs of consumer and enterprise customers. Besides, the Globe initiative will contribute to the economic development of the region and the local software development ecosystem," Jason Goecke added.
About Tropo
Tropo lives at the intersection of developers and service providers. We invest in revolutionary ideas and innovate new communications solutions. Tropo products are used by over 140,000 developers and many of the largest operators, mobile carriers, businesses and service providers around the world.
About Globe
Globe is a leading full service telecommunications company in the Philippines, serving the needs of consumers and businesses across an entire suite of products and services including mobile, fixed, broadband, data connections, internet and managed services. Its principals are Ayala Corporation and Singapore Telecom who are acknowledged industry leaders in the country and in the region.
For more information: https://www.globe.com.ph/
Twitter: @talk2GLOBE
Facebook: facebook.com/globeph