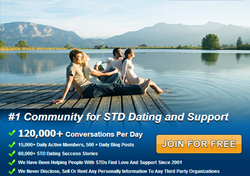 Los Angeles, CA (PRWEB) February 27, 2014
Each month, PositiveSingles.com submits a question on the Hot Topic page of its website, inviting the members to discuss the topic. This month, the topic that was posed to the group was how do the members feel about the person who gave them their STI and do they believe that there was deception involved or just a lack of awareness of STIs overall.
A total of 100 members took part in the discussion. Almost 60 percent of those who answered the Hot Topic question think their partners knew they had an STI and passed it on to them anyway, without informing them that they were infected. Since this effected their lives in a large way, they as if they were betrayed by their partners. Their partners stated that they did not have any sexually transmitted diseases, but that was proven to be a lie when they contracted an STI. They trusted what their partners said, causing them to lower their guards and have sex without any protection. Some of the members said they were very young and had very little knowledge of sexually transmitted diseases.
The other 40 percent of the members who took part in the discussion said their partners didn't disclose having an STI, because they were not aware of having one. Not all STIs have symptoms, especially in the beginning stages. These people don't hold any grudges against their partners and have been able to move on with little effect on how they continue to date. Because they had no symptoms, most of these partners never admitted they gave the members an STI.
Members report that the hardest part of being infected is having to tell their new partners that they have a sexually transmitted disease. They fear their partners will leave them, because most of the time, a new partner will end a relationship once they find out the member has an STI. In order to prevent STIs from spreading from partner to partner, it is always important to practice safe sex, even if you have no symptoms of a sexually transmitted disease.
About P ositiveSingles.com
As the largest and most trusted online dating site for people living with Herpes, HPV, HIV / AIDS, Hepatitis, Chlamydia, Gonorrhea, Syphilis and other STDs, PositiveSingles.com is completely anonymous and cares about members' privacy more than other sites. You are not required to submit any information that you are not comfortable with on this site. Whatever you are looking for Herpes dating, HPV dating, HIV AIDS dating, or any other STD dating, PositiveSingles.com is the best place.