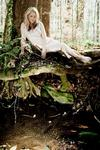 Sue Wilkinson did a fine job of sweet singing and then lifting the roof, all the while trying to respond to my questions to her in-between songs. Good work! - Singer Jane Siberry
Los Angeles. CA (PRWEB) February 26, 2014
Cypress South, an emotionally mesmerizing musical experience, features musician and sensuous electro-chanteuse Sue Wilkinson and seven-string bassist and looping maestro Michael Cady. Treasures, filled with atmospheric and edgy neo-soul, was co-produced by Atlanta's sonic wizard Martin Kearns and Germany's David Becker.
Wilkinson's success and popularity in Europe and the UK has yet to be mirrored here in the US, although critics praise Treasures as the CD that will raise her profile at home. The songs have been compared to Florence And The Machine, London Grammar, and Ellie Goulding. Baroque pop combined with visual art have made Cypress South a favorite live show at museums and planetariums.
Opening act will be local favorites The Harringtons, a female trio loved for their impressive musical style and groove driven harmonies.
Eddie Owen has long been a fan and supporter of Sue Wilkinson's music, and it's easy to see why. Red Clay Theater is located at 3116 Main Street, Duluth, Georgia, 30096. Contact them at 678-957-7283 for more information.
Treasures is available now on Amazon, iTunes, or SoundCloud. You can learn more about Cypress South by visiting their website at http://www.cypresssouthmusic.com, and following them on FaceBook, Twitter and ReverbNation.