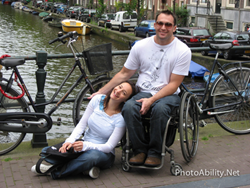 Creating accessible cruise ships, accessible ship terminals, accessible ground transportation, and accessible tourist destinations is not charity. It is just good business. - Dr Scott Rains, a US expert on disability issues
(PRWEB) February 26, 2014
Travelers with disabilities and their families represent a strong and growing trend that can be captured by travel properties and service providers who actively pursue this market by demonstrating commitment through Inclusive imagery provided by new niche stock image site PhotoAbility.net incorporated into websites, advertising and marketing materials.
This segment of the market is valued over 13.6 billion with 55 million people with disabilities in the United States alone, taking 32 million trips per year. Travelers with disabilities represent the fastest growing and largest untapped tourism market in the world today.
US research by McKinsey & Company predicts that by 2015, the baby boomer generation will command almost 60 percent of net U.S. wealth and 40 percent of spending. In many categories, like travel, boomers will represent over 50 percent of consumption. The impact on the Inclusive Travel sector is significant as over 40% of them will be retiring with some form of disability, raising the total value of the Inclusive Tourism sector to over 25% of the market by 2020.
The 2010 data from the National Center for Health Statistics estimated that 7.4 million persons in the United States household population use assisted devices for mobility. The numbers increase significantly with the passage of time and the aging of the baby boomers.
Overall, the United Kingdom has over 10 million disabled adults aged 16 and above. These individuals constitute 24% of the entire population.
According to the World Health Organization (WHO) more than one billion people in the world have one form of disability or another. Over 400 million of them live in Asia and the Pacific region. Approximately 200 million of them experience functional difficulties and need device assistance.
"American adults with disabilities or reduced mobility currently spend an average of $13.6 billion a year on travel. Creating accessible cruise ships, accessible ship terminals, accessible ground transportation, and accessible tourist destinations is not charity. It is just good business."
Dr Scott Rains. a US expert on disability issues
PhotoAbility.net specializes in travel related images featuring persons with disabilities enjoying travel all around the world with their families and friends. Incorporating these types of positive inclusive images within the travel sector will give those with disabilities the inspiration and confidence that they too can enjoy the opportunity to experience new destinations that can accommodate their accessibility needs.
The Stock Image Gallery features Rights Managed and Royalty Free photos and can be searched by destination by travel operators, companies, advertisers, marketers, publishers, creatives, and designers whose role is to cater to the travel consumer.
"Customers who have specific access needs are part of every tourism "segment". Their interests are as wide as any other group of people. They may be looking for mountain adventures, concert performances, or a honeymoon hotel. In business terms, they are simply 'customers' but they need good access – otherwise they will choose to go elsewhere. They also travel with family and friends so you could not just be losing one customer, but potentially many more. It is about gaining market share." - Bill Forrester, TravAbility.travel
Money spent in structural modification of a property, but not followed up with Inclusive imagery that demonstrates this accessibility, is a missed opportunity. It is also a relatively economical way of increasing market share. PhotoAbility.net has images as low as $20 to $350. Custom images can be created using models selected via their Model Casting page or a casting request done with the location and model specification provided.
"When we as consumers with a disability log onto a travel website, or see an advertisement in a magazine or brochure, and we see an image of those enjoying amenities that represents us, we will more than likely want to patronize that provider. If the experience is positive, we will want to return again. Loyalty is an important aspect of this market as well, as a good experience will be shared among various disability oriented social networks." - Deborah Davis, wheelchair user and co-owner of PhotoAbility.net
PhotoAbility was established in March 2012 by Bill Forrester and Deborah Davis with the goal of providing high quality, unique, non-medically oriented imagery of persons with disabilities for purchase by the advertising, marketing and media sectors. The Commercial Stock Image Library specializes in positive and "Inclusive" images of people with a disability in leisure, lifestyle and travel settings.
The 2000+ inclusive images depicted in the PhotoAbility gallery are designed to impact attitudinal bias, change perception and provide motivation to eliminate and reduce social, structural and professional barriers. A wave of change reflected in popular media and advertising can make an impact on laws and attitudes around the globe, and on how many with differing abilities view themselves.
For more information and to view PhotoAbility.net's positive, inclusive Stock Images, please visit http://www.PhotoAbility.net.