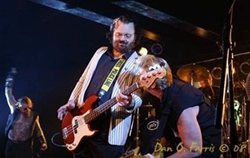 "He takes a syringe and shoves it in his head," said the bartender of Wood, "and then he lights it on fire!"
Atlanta, GA (PRWEB) February 26, 2014
Indiana born guitar player Lynn Syvante was living in Atlanta, Georgia, play jazz and top forty tunes in the upscale Buckhead nightclubs when punk rock hit town. A guy who looked like a tattooed sideshow freak with swastika earrings, coke-bottle glasses, missing front teeth and a thick, Brooklyn accent approached him after hearing him play guitar.
"Hey, I caught yore act deh, yore a pretty good guitaw playuh," he said, "Just so happens, we're looking for a guitaw playuh. This is our regular guy's last gig."
As he's led away rock star style, the bartender fills Syvante in on the guy, Chris Wood, and his band The Restraints, who had recently opened for The Clash. They had played to a standing room only crowd in the bar where they were sitting.
"He takes a syringe and shoves it in his head," said the bartender of Wood, "and then he lights it on fire!"
Syvante soon meets David Barge, the eccentric and stylish art bassist who, with fellow art student Wood had formed The Restraints. After being asked to join Syvante becomes the thirteenth person to become a member of possibly the most caustic and outrageous hardcore punk band in America.
A veteran writer who has written short stories and a vampire rock opera, Syvante, still plays guitar in several Miami venues. After bassist Barge passed away in 2013, Wood has passed away in prison, friends of the band asked Syvante to please consider publishing his book about his life with their old pals. He is seeking literary representation and welcomes any photographs and stories people who were part of Atlanta's punk scene have to share.
You can follow Lynn Syvante on Twitter or Facebook, and he appreciates anecdotes or photos relating to The Restraints or Atlanta's 80s club scene.