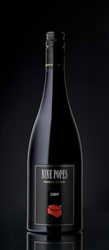 Brisbane, Australia (PRWEB) February 27, 2014
Mcguires Wines Direct, owned by The McGuires, known for large independently-owned chain of hotels and bottle shops in Queensland is proud to offer a new selection of EXCEPTIONAL QUALITY Premium Wines that everyone will enjoy in special occasions and are worth-adding to homeowners' wine collection. McGuires Wines Direct online store specializes in offering great wines at VERY AFFORDABLE PRICES (offering fantastic savings on many of the best wines in the world).
McGuires Wines Direct offers Premium Wines to suit all palates and budgets. By purchasing 6 bottles, online wine buyers can avail slashed prices of up to 12%. McGuires Wines Direct is truly able to offer the best possible deals with its fully-independent operation online.
Here's a quick list of the latest releases for Premium Wines that will surely make wine lovers keep coming back.
Charles Melton Nine Popes 2010 GSM
6 bottles for $70.19 each with 11% savings
Deep bright crimson in colour. A reserved but distinct provencal herb nose with just a slight hint of green leaf to add pep to the nose. Will sweeten in perfume given some time in the bottle, although a little of the typical talcum powder perfume is already starting to show through.
Grosset 2010 Pinot Noir
6 bottles for $63.04 each with 10% savings
Rising from the shadow of the Rieslings is this limited production from the Adelaide Hills. Complex, textural and tightly structured, this is an intricate, silky wine with mulberry and dark-cherry fruit, and exceptional tannin structure. One of Australia's 'Top 20 Pinot Noirs', (Gourmet Traveller Wine).
Grosset 2012 Chardonnay
6 bottles for $53.47 each with 11% savings
From the exceptionally cool Piccadilly Valley in the Adelaide Hills, this chardonnay is deliberately restrained. Succulent white peach, melon and grapefruit characters create a mineral, focused wine that is fresh and refined, with a deep underlying complexity.
Grosset 2013 Semillon Sauvignon Blanc
6 bottles for $31.10 each with 12% savings
Estate-grown Clare Valley Semillon seamlessly blended with single vineyard Adelaide Hills sauvignon Blanc. With cool tropical-fruit flavours, depth, vibrancy, and precise line and length, James Halliday has rated it in his 'Top 100 Wines' for three consecutive years
Grosset Alea 2013 Off Dry Riesling
6 bottles for $31.10 each with 12% savings
"The 2012 combines Watervale fruit delicacy, with pristine, mineral acidity and a delicate sweetness that gently fills the palate. The balanced interplay of fruit, acid and sugar means a clean, fresh finish – avoiding both the cloying effect of too much sugar or the austerity of too much acid". Chris Shanahan, http://www.chrisshanahan.com.
Grosset Gaia 2010 Cabernet Sauvignon
6 bottles for $64.79 each with 11% savings
Rated 'Outstanding' Unmistakable cabernet sauvignon. There's blackcurrant, green leaf, cedar and tobacco all tied up in a neat bundle. The tannins are firm and fine, balancing the intense fruit.
Lester Jesberg, Winewise
About the Company:
Since 1908 a proud name in the Queensland Hotel business, the third generation of the McGuire Family oversee hotels including The Paddington Tavern, Colmslie Hotel, the Calamvale Hotel, Alexandra Hills Hotel, Muddy Farmer, Logan Village Tavern, O'Tooles of Corinda, the Queenslander Marsden, RQ's Tavern Robina and Tugun Tavern. The McGuires' family have built a prosperous and tightly knit hotel and liquor barn group entrenched in the ethos of genuine 'hospitality plus' that stems from their Irish roots. Now the fourth generation of McGuires has entered the dynasty, as always, from the ground up but developing innovations and additional services that extend the McGuires' brand of hospitality into contemporary trends, always delivering what Queenslanders appreciate – warmth, comfort and a good time. It's the experience that separates a family owned business from that of conglomerates owned by grocery chains. A welcoming atmosphere where customers are very likely to be sharing a good yarn with one of the owners' family. http://www.mcguireswinesdirect.com.au.