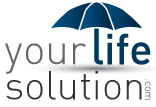 Even if you had the entire death benefit saved, it still doesn't make sense to self insure
Chicago, IL (PRWEB) February 25, 2014
Eric Smith, an independent life insurance agent and founder of YourLifeSolution.com is releasing a rebuttal via his website's integrated blog that refutes five of the most illogical reasons people have for not owning life insurance. YourLifeSolution.com states that the purpose for doing this is to refute common excuses in a rational and respectful manner.
The five "dumbest excuses" and the rebuttals are as follows:

I Don't want to think about death
"It's understandable to not be entirely fond of thinking about your own, or your spouse's mortality, but it's also arbitrary and a bit immature. I don't want to think about being in a house fire or car accident, but I definitely check my smoke detectors and wear a seatbelt", said Eric Smith.
If I have it, people will try to kill me
"In the seven years I've been licensed, I've heard this one several times. The people who said this weren't entirely joking either. By this same logic, someone should never acquire any wealth for fear that their next-of-kin will kill them".
I'll buy it when I'm older
"You're always getting older and therefore life insurance rates are always relatively getting higher. You'll likely never be any healthier than you are this year and you'll most definitely never be younger".
I don't plan on dying tomorrow
"I don't plan on retiring, getting in to a car accident, being robbed, dealing with a natural disaster, getting a major health condition, or being subject to virtually any other catostrophic event in the near future, but I and most other adults still plan for them".
"Even if you had the entire death benefit saved, it still doesn't make sense to self insure. If you had the entire death benefit in cash, you could easily just purchase a life insurance policy for a much larger death benefit by paying for their coverage on a single premium basis. If you don't have the entire death benefit today, then the concept of self insuring is impossible since death can happen at any time".
Consumers interested in viewing online life insurance quotes instantly are encouraged to visit YourLifeSolution.com. Information on life insurance products can also be obtained directly from Eric Smith, the independent life insurance agent and founder of YourLifeSolution.com, by calling 888.374.2764.