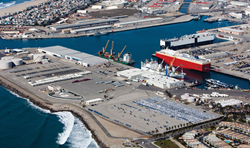 President Obama has called for a renewed attention on our ports to help us move more goods from our shores to the rest of the world
(PRWEB) February 25, 2014
Acting Maritime Administrator Paul "Chip" Jaenichen met today with Port of Hueneme officials and Port customers for an industry stakeholder meeting and tour of the Port of Hueneme and Navy Base Ventura County. BMW, Global Auto Processing Services, Wallenius Wilhelmsen Logistics, Chiquita, Del Monte, Yara, the ILWU and Port Stevedores participated in a strategic round table discussion focusing on partnership opportunities, marine highway trade and Port priorities moving forward.
"America's Ports truly are our economic gateway," said Acting Maritime Administrator Paul "Chip" Jaenichen. "President Obama has called for a renewed attention on our ports to help us move more goods from our shores to the rest of the world, and I'm happy to see that effort being supported here today."
Acting Maritime Administrator Jaenichen is President Obama's nominee to be the next Maritime Administrator. Prior to being appointed Deputy Maritime Administrator in July 2012, Jaenichen was a career naval officer, retiring after serving 30 years as a nuclear trained Submarine Officer in the U.S. Navy.
Board President Rooney said, "We're excited the Acting Administrator made the trip to our Port and took the time to meet with our customers and tour our facilities. The Port and MARAD share a long history of collaboration that has brought economic prosperity to our community."
MARAD was very instrumental with the port's expansion during the 1990's, growth that supported the Port's pillar automobile and banana trade. Today, the relationship remains strong. Port Director & CEO Kristin Decas serves on the Maritime Transportation System National Advisory Council, a forum administered by MARAD and the US Department of Transportation to leverage the voice of the maritime community in federal freight planning and policy.
Of the visit, Ms. Decas remarked, "We are joined by an important player that can get things done in Washington to advance our Port's interests. The Acting Administrator understands he can be much more impactful by visiting with the Ports and industry stakeholders. We appreciate his proactive approach to hear our priorities and see firsthand how we can best position the Port for the future."
Under the U.S. Department of Transportation, the US Maritime Administration (MARAD) oversees federal waterborne transportation programs and initiatives. MARAD promotes the use of waterborne transportation and its seamless integration with other segments of the transportation system.
They further the viability of the U.S. merchant marine. MARAD works in many vital maritime sectors including ships and shipping, shipbuilding, port operations, vessel operations, national security, the environment, and safety.
The Port of Hueneme is one of the most productive and efficient commercial trade gateways for niche cargo on the West Coast. The Port is governed by 5 locally elected Port Commissioners. The Port moves $8 billion in goods each year and consistently ranks among the top ten U.S. ports for automobiles and fresh produce. Port operations support the community by bringing $1.1 billion in economic activity and creating 10,226 trade-related jobs. Trade through the Port of Hueneme generates more than $69 million in annual state and local taxes which funds vital community services.
We Make Cargo Move