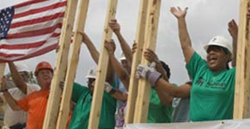 The event shines the light on a worthy cause.
(PRWEB) February 25, 2014
Charity and commerce connect to change lives this month in a Lighting New York sales promotion to fund Habitat for Humanity.
Lighting New York is partnering with Maxim Lighting to offer a 15 percent discount on Maxim Lighting or ET2 Contemporary Lighting fixtures and donate $5 of each purchase to Habitat for Humanity. The event shines the light on a worthy cause and the community-minded conscious of two companies—Lighting New York and Maxim Lighting— both seeking to make a difference.
Habitat for Humanity builds and repairs houses around the world, providing safe, affordable housing for struggling families. Lighting New York chose Habitat for Humanity as its charitable cause because of the non-profit organization's proven global impact. With 1,500 affiliates in the United States and more than 70 national organizations worldwide, Habitat for Humanity has built or repaired over 800,000 houses helping more than 4 million people.
Lighting New York's 15% discount and $5 donation applies to all Maxim and ET2 Lighting products including the latest looks such as LED fixtures with dimmable capability and excellent color rendering. On-trend Maxim and ET2 Lighting fixtures include The Flask Collection with its chrome finishes, heavy glass, clean lines and LED bulbs. Maxim Lighting's new Vivex outdoor lighting collection made of non-corrosive, UV resistant material that weathers well on oceanfront homes, also is among hundreds of items in the charitable promotion.
For more than 40 years, Maxim Lighting, a lifestyle lighting manufacturer and wholesaler, has been enriching the lives of its customers and the community by giving back to charitable causes in partnerships with altruistic companies such as Lighting New York.
Lighting New York, through its Cause Promotion with Maxim Lighting and Habitat for Humanity, hopes to ease the struggle of families and individuals without safe and adequate shelter.