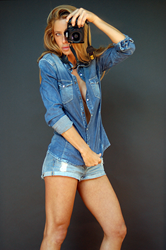 Agencies currently scouting for: Ford Models, NTA Model and Talent, Osbrink Kids, LA Models, LA Talent, Hollywood Models, Envy Model and Talent.
West Hollywood, CA (PRWEB) February 25, 2014
Elizabeth Bensinger is on a quest, traveling through the lens to capture, create and cultivate an iconic image of her various clients. An image developed to cater the individuals target market that helps sell and ignite careers not only in Los Angeles but across the globe. The industry of modeling, marketing & fashion of which Elizabeth Bensinger has been involved with for the past 18 Years. With a primary focus on developing within the industry, navigating strategy with agency placement & updating ever-changing looks for seasonal markets.
During Elizabeth Bensinger's photo shoots, she utilizes her extensive history in modeling to help develop global careers for her clients. Elizabeth believes that it's her job to help her clientele figure out their target markets and develop their direction to land them the best agency that specializes for their look. She is determined to navigate her clients through the LA casting process and make recommendations based on abilities to the best acting and commercial coaching classes in town.
Visit http://vialalens.com/ or contact them directly at 312-371-3974.