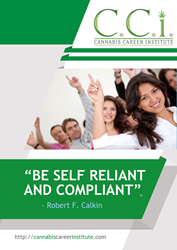 State Compliance and understanding State Law help our Students Succeed in the Medical Marijuana Industry.
Warwick, RI (PRWEB) February 28, 2014
With lawmakers currently focusing on bringing legalization of marijuana to Rhode Island, the reality of opening up a Marijuana Industry Business is something a vast majority of entrepreneurs are starting to think about. While the state is looking towards the economic windfall expected by the taxation of this new industry, the potential for large profits are allowing business minded individuals the glimpse of opportunity.
One of the key factors of the Cannabis industry often overlooked, is the addition of jobs that will help local economies. In order to properly navigate through the legalities and regulations issued by individual states, business training is a must for those wishing to pursue a new career in Marijuana.
Cannabis Career Institute is a nationally recognized leader in business training for the Cannabis industry and has already helped over 2,000 students learn how to be compliant with local laws - the full day class will be taught in Rhode Island on March 1st, 2014.
Students will learn how to open up a Medical Marijuana Dispensary and will learn to Run a Marijuana Delivery Service as well as Start a Grow Operation or an Edibles Operations. All classes are geared towards the legalities in the state the class is taught in and Instructors come from a variety of professions. Lawyers teach the law section; Master Growers get involved with the class to discuss optimal growth phases and much more.
As the days of Cannabis Prohibition draw to an end and states begin to eye the potential revenue gains to be had by legalizing Marijuana, the entrepreneurs of Rhode Island need to learn the proper business techniques to keep a business effectively running. Cannabis Career Institute manages to teach hundreds of students monthly in a variety of states, helping them become successful business owners.
As an additional benefit, the Marijuana Industry is expected to be an amazing job source for residents of Rhode Island once legalization takes place. With new businesses expected to open for this new frontier, job opportunities are expected to grow. One significant place Cannabis Business Owners can check for employees is the new CannaJobs, one of the only Marijuana sector job boards, much like Monster.com.
Students interested in enrolling and learning everything from the business plan formation, to collective creation and Non-Profit Organization structure should contact Cannabis Career Institute to take part in this educational and beneficial class.
Press Release by Meki Cox