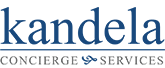 The streamlined website offers consumers information on their free concierge service for home relocation
(PRWEB) February 25, 2014
Moving concierge service Kandela is pleased to announce the launch of their recently redesigned website, http://www.kandela.com. The streamlined website offers consumers information on their free concierge service for home relocation, including information on available service providers in categories such as moving, television, internet, phone, home security, home automation, insurance, and much more. The website also provides consumers with moving tips to simplify the relocation process, such as a change of address checklist and information on choosing home services that meet both needs and budget. All of Kandela's services are initiated by a single phone call and are completely free to consumers.
Kandela prides itself on providing a customer experience similar to that of a high-end hotel concierge. Rather than having to speak to dozens of people and service providers to set up their home, clients work with a single point of contact – their own personal "concierge" – throughout the entire moving process. If possible, the concierge will also schedule all service providers to arrive at the same time to set up services, offering an extraordinary level of convenience to the client. In addition, clients often enjoy discounts from top TV and internet providers when accounts are activated through Kandela.
Once a client contacts Kandela, their personal concierge will review and discusses all service provider options and budget requirements. The homeowner or renter will choose the providers and services that best meet their needs and the concierge will activate services, schedule installation and take care of the details. Customers can also expect to receive a summary of services with dates and other important information that helps them stay organized during their move. The goal is five-star customer service. "I would absolutely use Kandela again and I would recommend them to anyone," commented Kendra, a satisfied customer from Concord, California.
Consumers interested in Kandela's free concierge services can contact them at (888) 826-8449 or visit their website for more information.
Kandela is an authorized retailer of many of the high quality service providers that consumers know and trust. With their consultative approach to customer service, their mission is to offer an exceptional moving experience that leaves their clients in awe. The company has been in operation since 2012 and is based out of Los Angeles, California. For top moving advice and to get help from experienced profressionals, please visit their website or follow the company on their Facebook, Google Plus, and Twitter pages.