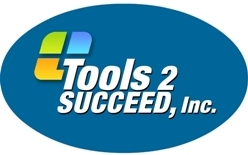 I was thrilled to be able to use the Tools 2 Succeed e-Learning package to recertify my PHR.
Westlake Village, CA (PRWEB) February 27, 2014
Tools 2 Succeed is offering a $30 promotional discount on all e-Learning purchases for a limited time. Use discount code TOOLS30 in the shopping cart on checkout. To see all available packages, visit http://tools2succeed.com/elearning.html.
It is well-known that businesses of today operate in a fast-paced environment that requires quick learning, just-in-time training, and instant access to knowledge and information. Each of the Tools 2 Succeed e-Learning courses is developed by Skillsoft using a rigorous set of criteria that includes quality content, extensive interactivity, appealing graphics, a consistent course interface, and interspersed questions that combine to make learning fun, interesting, and effective.
The Tools 2 Succeed e-Learning package offerings include:
HRCI e-Learning Package: 60+ HRCI recertification credit hours. Take as many or as few courses as you wish. Meet all PHR or SPHR recertification requirements with this low-cost package developed by Skillsoft.
HRCI Certification Preparation e-Learning: Study for the PHR or SPHR exam online at your convenience with interactive e-Learning courses including practice exams. Courses were developed by Skillsoft. Suzanne Nelson, PHR said, "I was thrilled to be able to use the Tools 2 Succeed e-Learning package to recertify my PHR."
Project Management Institute PDU Credit: Skillsoft, the developer of the courses, is a Registered Education Provider for PMI, the world's leading project management association. Our approved project management-related courses can be used as study guides to prepare for the Project Management Professional (PMP) certification and can be submitted as Professional Development Units (PDUs) toward any of the PMI credentials.
Sexual Harassment Prevention: These courses developed by Tools 2 Succeed educate supervisors and managers as well as staff-level employees about the causes and effects of sexual harassment in the workplace. The Sexual Harassment Prevention for California Supervisors course complies with California Government Code 12950.1 - AB 1825. Courses are also available for California Employees, U.S. Supervisors, and U.S. Employees.
Employee Development Training: The courses developed by Skillsoft can help increase the motivation, productivity, and leadership skills of your team. Take as many or as few courses as you wish.
About Tools 2 Succeed, Inc.
Tools 2 Succeed focuses on creating high-performance organizations in which every employee feels and acts like a partner in the business and is excited to contribute to its success. Services include onsite employee development training, leadership workshops, sexual harassment prevention training, outplacement services, DiSC behavioral assessments, and an extensive offering of e-learning courses. The company is based in Southern California and has a worldwide team of facilitators who can provide onsite training and consulting onsite or in public venues. Tools 2 Succeed is an Approved Provider of the Human Resources Certification Institute (HRCI), offering low-cost programs for HRCI recertification credit.
About Skillsoft Corporation
Skillsoft provides cloud-based learning solutions for customers ranging from global enterprises, government and education customers to mid-sized and small businesses. Their courses, books and videos have been developed by industry-leading learning experts to ensure that they build talent and develop a more knowledgeable, productive and valuable workforce. Their customer support teams draw on a wealth of in-house experience and a comprehensive learning e-library to develop both packaged and custom learning programs tailored to their customers' needs.
They currently serve more than 19,000,000 learners worldwide.