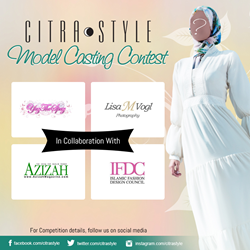 Searching for a strong, self-conscious muslim women, to be the face of Citra Style, makes perfect sense for us as a global islamic lifestyle brand. We are proud to have the support of such strong partners for this exciting project.
(PRWEB) March 03, 2014
Citra Style, the world's premier online store for stylish modest fashion creations, is holding a casting call for Muslim women, to find the new face for the brand's 2014 Summer Collection.
Giving Muslimahs around the globe a chance to win a trip to Dubai for the Citra Style Summer look book shoot, the contest will determine a model, to accompany the popular modest fashion blogger & model YazTheSpaz, as the brand's visual representation for the upcoming season.
In line with Citra Style's efforts to promote contemporary alternatives to regular Islamic fashion, Citra Style has initiated the Model Casting Contest to give modern hijabis the chance, to show their love for stylish Muslim fashion design.
The lucky winner will get to shoot the summer collection with renowned modest fashion photographer Lisa Vogl-Hamid, alongside YazTheSpaz. A 7-day trip to Dubai, including flights & accommodation, are also part of the exciting prize package.
The competition will take place online, via Facebook, allowing contestants to upload their 'best look' images to a promotional app. Seven finalists will then be determined by public vote on the app itself. Finally, the winner will be chosen by a high-profile panel of Muslim fashion and lifestyle influencers, consisting of Tayyibah Taylor (Founder & Editor-in-Chief of Azizah Magazine), Alia Khan (Director of the Islamic Fashion Design Council) & Habibah Chbib (Co-founder of Citra Style).
The submission of entries runs from March 3rd until March 31st. Voting for the top seven entries will open from March 31st until April 13th. The final winner will be announced on April 20th, on Citra Style's social media platforms.
To participate in the Model Casting Contest for the Face of the 2014 Citra Style Summer Collection, registrants need to visit the Citra Style Facebook Fan Page (facebook.com/citrastyle), as well as the contest page for more information about regulations and requirements.
About Citra Style:
Citra Style is the world's premier online store for modest and stylish fashion designs, featuring a gorgeous collection of contemporary attire, curated and lovingly weaved for the Muslim woman of grace and honor.
Conferring to the sacredness of faith, while rendering comfort and style, Citra Style has come together, to create a collection that represents a unique fusion heritage of culture and current runway trends.
Citra in Arabic stands for protection, cover, shelter and above all modesty; all synonymous to what the brand truly represents in context to fashion and faith. On the other hand, Style refers to all things fashionable, the trendy side of the brand universe that presents you with en vogue ensembles to upgrade your wardrobe.
The combination of these two key components is the underpinning origin of the online fashion store, architected to spread positivity and virtuosity, while advocating one's persona in line to modesty. Citra Style was created to enable the woman of faith, and those with a fashionable attitude, to represent their belief and passion for beauty all at once, whilst turning them into connoisseurs of comfort at their stylish best.
Citra Style
Style. The Modest Way.
Contest Page:
http://bit.ly/CitraStyle_Model_Casting
For more information, please contact:
Habibah Chbib
Co-Founder & Global Head of Community Management
hchbib(at)citrastyle(dot)com
Facebook.com/citrastyle
Twitter.com/citrastyle
Instagram.com/citrastyle
Citrastyle.com/muslimfashionblog