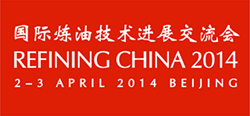 China refineries are adjusting product structure, upgrading facilities and using measures to maximise crude resources. Discussion such as these makes Refining China the most important forum for Chinese refining industry.
Beijing, China (PRWEB) February 27, 2014
Crambeth Allen, the publisher for Petroleum Technology Quarterly (PTQ) and Hydrocarbon China is organizing an international refining conference entitled Refining China 2014 at the Regent Hotel, Beijing on 2-3 April. Besides being the pioneer as well as the longest running international refining conference in China, a typical accolade given by past delegates is that it is the best of its kind and the most useful conference on the refining of crude oil.
With the support of Sinopec's China Petrochemical Press, Refining China is consistently able to attract high level executives from China national petroleum company, including: Sinopec, Petrochina, CNOOC, Sinochem and other independent china refineries and petrochemical companies to speak and attend. Some 200 Chinese and international delegates gather in Beijing every year to discuss advances in oil refining technology and outlook of the refining industry. This year's agenda is focused on environmental protection, energy efficiency, clean fuels, heavy and sour crude processing.
"Oil quality deterioration, fuels purification, green and low-carbon production are all challenges causing China refineries to adjust product structure, conduct unit upgrading and maximise crude resources. It's discussion of issues such as these that makes Refining China such an important forum for China's oil refining companies," said Sally Zhang, editor of China's leading refining technology magazine, Hydrocarbon China.
Presentations at the Refining China 2014 feature leading figures from the China refining industry and international speakers from top refining technology companies. The opening address will be given by Mr Zhao Jungui, Vice President and Secretary-General of the China Petroleum and Chemical Industry Federation. Other key speakers come from: China National Petroleum Corporation (CNPC), Sinopec Yanshan Petrochemical, Jinling Petrochemical, CNOOC Ningbo Daxie Petrochemical, West Pacific Petrochemical, ExxonMobil, Air Products, Criterion, Purolator, Kinetics Technology, Cat Tech, GTC Technology, Kinetics Technology, Emerson Process Management, Johnson Matthey and Sinodata Consulting.
Registration to participate in Refining China 2014 is based on a first come, first served basis as there are limited spaces available. The registration fee is £900 per delegate for sign up before 15 March 2014, thereafter; late supplement of £200 per delegate applies. There is also a 10% group discount for companies sending 4 or more delegates before 15 March 2014.
For more information, please visit http://www.refiningchina.com.
About Crambeth Allen
Crambeth Allen is the publisher of PTQ, the world's leading quarterly dedicated to hydrocarbon technology developments. Over the past nine years it has co-operated with Sinopec to disseminate this knowledge in China, though print publications, its website hydrocarbonchina.com and, for eight years, the Refining China conference.
For more information:
http://www.crambethallen.com
http://www.hydrocarbonchina.com
http://www.eptq.com