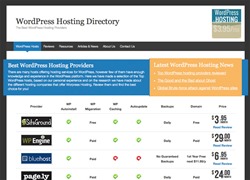 The tests were designed to measure the performance of the hosts based on speed and availability or how they handle server load, technical support, security parameters and how all that correlates with the price they charge.
(PRWEB) February 26, 2014
The WordPress hosting directory reported data from the tests it ran on the top WordPress hosts listed in the site at the beginning of 2014. The service providers were tested on three main criteria that distinguish the good hosting service - speed, security and support for WordPress sites and their performance was mapped against the prices they charge to get the final rankings in the directory.
The first test WordPress Hosting Directory conducted was speed and availability test. It aimed at showing which of the hosts were actually able to handle the so-called Slashdot effect - a large number of requests towards a WordPress website in a short period of time, which is a good indicator of the platform availability and speed of response. WPEngine, SiteGround and GoDaddy's new WordPress platform were the top three performers, some managing to serve more than 25,000 hits for two minutes.
The level of customer support was measured by creating two issues on a WordPress website - an easy problem and a more complex WordPress-specific issue. Then the response time and the quality of the answers were measured by WPHostingDirectory.com. In this test SiteGround and Bluehost managed to handle and resolve both types of inquiries fastest.
Based on all the test results, the directory updated its final rankings with SiteGround, WPEngine and Bluehost in the top 3. Click here to read the full WordPress hosting review and see how hosts were ranked.
About WPHostingDirectory:
WPHostingDirectory.com is specialized in monitoring hosts that provide WordPress-specific hosting service. The goal of the directory is to help WordPress users find a reliable host at a reasonable price.