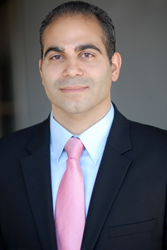 I feel very fortunate to be one of the recipients of the SuperDoctors Rising Stars Award.
Beverly Hills, CA (PRWEB) February 25, 2014
Colorectal surgery expert Allen Kamrava M.D. is one of the proud recipients of this year's SuperDoctors Rising Stars Award. Top doctors from different areas of specialization are selected for this award on the basis of peer selection and independent research carried out by Key Professional Media. As a part of this elite team of doctors, the prestigious award for Kamrava is soon to be published online, in local magazines and in leading newspapers.
SuperDoctors Rising Stars award is considered to be different from other professional achievements in the medical field because of its stringent selection criterion. To begin only fully licensed and active physicians with ten years of experience are eligible for this award. The rigorous multi-step selection process begins with the nomination of different colorectal surgeons by their colleagues. Self nomination is not allowed, and all measures are taken to an impartial ballot process. Key Professional Media also searches candidates from different publications and online databases. This is followed by the evaluation of each of these candidates on the basis of ten key parameters. Finally, the doctors with the highest points from research, nominations and panel review are selected for the award.
The selection of Allen Kamrava for the SuperDoctors Rising Stars award is certainly a great achievement for this highly rated expert in colon and rectal surgery. Dr. Kamrava is a Neuroscience Bachelor degree holder from University of California, Los Angeles. He has also completed a dual program in medicine and business administration. After the completion of his General Surgical residency, matriculated at The University of Pennsylvania for his fellowship in Colon and Rectal Surgery. Dr. Kamrava has also completed rigorous training in minimally invasive laparoscopic and robotic surgery. His present research activities cover areas such as treatment of advanced stage colorectal cancers, the treatment of inflammatory bowel disease, and complicated anal diseases. He is also engaged in efforts to improve healthcare efficiency and workflow. Now, as one of the 'SuperDoctors Rising Stars', Allen Kamrava has joined the top 2.5% of physicians in his region.
Los Angeles Colon and Rectal Surgical Associates has been one of the most trusted names in Los Angeles for all types of colorectal procedures since its founding in 1957. During their long tenure in this area, they have built a reputation of trust by delivering compassionate treatment, focused diagnosis, and a high level of professional competency. The specialist surgeons at Los Angeles Colon and Rectal Surgical Associates are particularly known for their proficiency in the latest techniques that are minimally invasive. The selection of their newest associate Dr. Kamrava, to the SuperDoctors Rising Stars award is certainly an inspiration for the entire organization.
About Los Angeles Colon and Rectal Surgical Associates:
Los Angeles Colon and Rectal Surgical Associates is the most trusted and highly recommended Colon and rectal surgical group in Los Angeles for the treatment of all types of colorectal and anal diseases. Since their beginning in 1957, they have built a unique reputation by offering compassionate medical care with focused diagnostics and treatments.