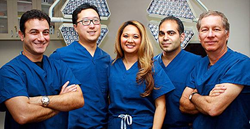 Since the founding of our practice in 1957, our guiding philosophy has been, and will always be to provide our patients with compassionate medical and surgical treatment, while adhering to the highest principles in the art and science of medicine.
Beverly Hills, California (PRWEB) February 26, 2014
Los Angeles Colon and Rectal Surgical Associates has again received acclaim, with three of their specialist colorectal surgeons having been selected for the well known Los Angeles SuperDoctors Award. Eiman Firoozmand M.D., Gary H. Hoffman M.D. and Liza Capiendo M.D. are highly respected for their proficiency in colon and rectal surgery, and they have been chosen for the Los Angeles SuperDoctors Award for the third consecutive year. This award is an initiative from Key Professional Media to honor the most proficient talents in the medical field on the basis of independent research and peer recognition.
The SuperDoctors Award has its own respect among medical professionals because of its strict selection process. Key Professional Media creates the candidate pool with the nomination of physicians based upon the recommendations of their colleagues. The Key Professional Media research team also identifies candidates from different online databases and medical publications. A thorough candidate evaluation is carried out on the basis of 10 relevant parameters, including experience, professional activities, fellowships, academic achievements, as well as other criteria. The final screening of the candidates is done by a panel of specialists known as the "blue ribbon panel".
Gary H. Hoffman, M.D. is an instructor and Attending Surgeon at Cedars-Sinai Medical Center, in the Division of Colorectal Surgery. He is also an instructor with the Division of General Surgery at Cedars-Sinai Medical Center. Dr. Hoffman is considered to an innovator in advancing the development of the Procedure for Prolapse and Hemorrhoids (PPH), as an alternative hemorrhoid operation.
Eiman Firoozmand, M.D. is an attending surgeon in the Colorectal Surgery Division at Cedars-Sinai Medical Center. Dr. Firoozmand is also associated with the Keck School of Medicine at the University of Southern California as a voluntary faculty member. Doctor Firoozmand's primary research and clinical focus areas are the treatment of colon and rectal cancer, benign anorectal disease, and inflammatory bowel disease. Many peer-reviewed journals have published articles written by Dr. Firoozmand.
Liza M. Capiendo, M.D. is involved with Cedars-Sinai Medical Center as an Attending Physician. Having received her M.D. from Loma Linda University, Dr. Capiendo then trained at the Los Angeles County/U.S.C. Medical Center for her Colon and Rectal Fellowship. Dr. Capiendo is interested in the treatment of women experiencing rectal problems due to pelvic floor disorders. She specializes in the treatment of inflammatory bowel disease (IBD) and in the diagnosis and treatment of fecal incontinence.
The two other surgeons in the group are Stephen Yoo M.D., who joined in 2009, and Allen Kamrava M.D., who joined in 2011. Both are board certified and have received a remarkable level of admiration from their colleagues and peers.
Los Angeles Colon and Rectal Surgical Associates is a highly respected name in Los Angeles as a medical and surgical group, offering numerous procedures for colon, rectal and anal diseases. Founded in 1957 by Norman N. Hoffman M.D., the surgeons of Los Angeles Colon and Rectal Surgical Associates are considered to be leaders in their field. Selection of three of their surgeons for the Los Angeles SuperDoctors Award speaks to their respect amongst their peers.
About Los Angeles Colon and Rectal Surgical Associates: Los Angeles Colon and Rectal Surgical Associates is the oldest group in Southern California specializing in the treatment of all types of colorectal diseases. Since the founding of the group in 1957, the surgeon have built a unique reputation by offering compassionate medical care, combined with focused diagnostic and therapeutic interventions.