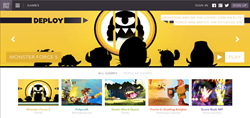 Ga.ME Offers the First Unified Online Platform Capable of Delivering Console Quality Games
Podgorica, Montenegro (PRWEB) February 25, 2014
The .ME Registry is proud to announce the full launch of Ga.ME, a product that is revolutionizing the way people play and develop games.
Developed by Turbulenz Limited in Guildford, UK, Ga.ME is the first unified online game platform and social network capable of delivering console quality games across desktop, mobile and tablet devices. In addition to a catchy name and a new brand in the browser-based game market, Ga.ME brings a variety of new features for both developers and consumers alike. With Ga.ME developers are able to build, publish, iterate and monetize high-quality games that are optimized for all online devices, whereas consumers may instantly (and free-of charge) enjoy the most engaging games of today that boast unparalleled visuals, multiplayer options and social features.
"We are very excited that Turbulenz decided to launch their product on a .ME domain name", said Predrag Lesic, the CEO of the .ME Registry. "It is amazing to see the platform that caters for the customer's needs while being able to meet demanding standards of compatibility with the growing number of Internet connected devices. This is exactly one of those services we were hoping to see developed on Ga.ME when we launched the Premium Domain Program".
James Austin, the CEO of Turbulenz, added: "It is simply not possible to get a more compact and perfect domain name to launch the Internet's most sophisticated game platform. Deploying the Turbulenz game platform on the Ga.ME domain has given us the most exclusive and unique destination for our revolutionary game platform".
With around ten thousand developer accounts opened at the Turbulenz Developer Hub and hundreds of thousands consumers playing each day, Ga.ME is slowly taking over the world of online games and it is becoming the force to reckon with. But, what is more important, the team behind Ga.ME stays true to its mission – to create the greatest online gaming experience and become a hub for the stickiest and most engaging games.
To learn more about Ga.ME, the open source Turbulenz Engine and opportunities for developers read the interview with the Turbulenz team at .ME domain blog.
To learn more about the .ME Registry, developing a .ME business idea and many clever uses of the .ME domain or to simply find out how to register a .ME domain name, please visit http://domain.me/.
About .ME:
.ME Registry (the d.b.a. of doMEn, d.o.o.) was chosen by the government of Montenegro to operate the new .ME domain name extension. .ME Registry partners include ME-net, GoDaddy and Afilias Limited. Me-Net is a Montenegrin registrar and its founders are leaders of the ICT sector in Montenegro, who among other things participated in a successful privatization of Montenegrin largest ISP. GoDaddy, the world's largest technology provider dedicated to small businesses, is the world's No. 1 domain name registrar. Afilias Limited is headquartered in Ireland and is a leading registry services provider, supporting more than 15 million domains worldwide.