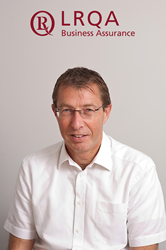 LRQA sees integration as a key component of the ISO standards revisions
(PRWEB UK) 26 February 2014
In 2013 ISO/TC 207/SC 1 – the ISO Technical Committee responsible for the revision of international environmental management system standard ISO 14001 - conducted a survey on ISO 14001 which covered a range of potential areas for continual improvement. The survey questionnaire included questions related to the perceived value of the ISO 14001 standard for both business management and environmental management, and the extent to which ISO 14001 should address or strengthen attention to future challenges for environmental management systems.
The results of this survey have just become available and make for interesting reading. For environmental management, responses from users suggest that organisations have realised significant value from ISO 14001 in terms of meeting legal requirements, improving environmental performance, and enhancing management commitment and stakeholder engagement.
Close to 75% of participants indicated 'high' or 'very high' value for meeting legal requirements and improving the organisation's environmental performance, while more than 60% indicated 'high' to 'very high value' for management commitment and employee engagement.
Responses from users also suggest that ISO 14001 has provided considerable value for business management, most notably for meeting stakeholder requirements, improving public image, achieving strategic objectives, and integrating with business management systems. More than half of participants indicated 'high' to 'very high' value, and more than 80% indicated at least a moderate value in these areas.
Furthermore, 78% and 63% of responses indicated at least a moderate value in terms of providing a competitive advantage and financial benefit, respectively.
These results correspond with reported motivations for adopting the Standard. Based on user rankings of factors influencing their adoption of the standard, the strongest environmental drivers for adopting ISO 14001 included commitment to environmental protection/conservation, and reduction of risk of adverse environmental impact. Primary influences related to business management included customer requirements and public image.
Commenting on the results, David Lawson, LRQA Technical Director said "What must be noted from these results is that more than half of user responses indicated 'high value for business management' in the area of integration with other management standards applied by the organisation - such as quality management standard ISO 9001 and international energy management standard ISO 50001. LRQA sees integration as a key component of the ISO standards revisions which we believe will deliver increased efficiencies and savings for organisations using ISO 14001 - and other ISO standards - around the world."
LRQA is a major contributor to the development and improvement of standards and associated guidance in the fields of management systems and conformity assessment worldwide. As recognised voices in the industry - driven through our membership and LRQA's Managing Director, Mr. Mike James' chairmanship of the IIOC (Independent International Organisation for Certification), the global certification trade body - our experts are actively involved in the international technical committees for all three of the world's leading Management System Standards, specifically ISO 9001, ISO 14001 and ISO 45001/OHSAS 18001 (occupational health and safety).
Further information about the ISO Standard Revisions - to include blogs and round table discussions - will appear on http://www.lrqa.com/isostandardsupdate. Alternatively, please email enquiries(at)lrqa(dot)com.
Notes to editors
About LRQA
LRQA is a member of the Lloyd's Register group. LRQA is a leading independent provider of assurance services including assessment, certification, validation, verification and training across a broad spectrum of standards and schemes. For Group details see http://www.lr.org/entities.
About Lloyd's Register
Lloyd's Register (LR) is a global engineering, technical and business services organisation wholly owned by the Lloyd's Register Foundation, a UK charity dedicated to research and education in science and engineering. Founded in 1760 as a marine classification society, LR now operates across many industry sectors, with over 9000 employees in 78 countries.