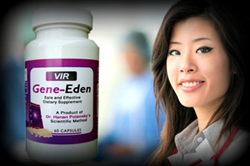 If your child has ever had chickenpox, or the chickenpox vaccine, we recommend talking to the pediatrician about Gene-Eden-VIR. - Mike Evans, polyDNA
Rochester, NY (PRWEB) February 28, 2014
Researchers believe that asthma may cause the latent Varicella Zoster Virus (VZV), which causes chickenpox, to reactivate in infected children. The reactivated virus causes another disease called herpes zoster (HZ), commonly known as Shingles. "…asthma might influence the risk of HZ given rising trends of asthma prevalence over the past few decades… (1)." This is important since "There is a trend toward an increasing incidence of HZ in children… (1)." Importantly, study authors noted that most cases of HZ in children occur in kids who have healthy immune systems. "The majority of HZ cases (92%) involve individuals without an immunocompromising condition (that is, without a weak immune system) (1)." polyDNA therefore recommends that parents with children who have asthma talk to their pediatrician about Gene-Eden-VIR. This natural antiviral product was clinically proven to reduce viral symptoms in a post-marketing clinical study that followed FDA guidelines.
"We found that a history of asthma was significantly associated with an increased risk of HZ in children. The population-attributable risk percentage for asthma in all subjects was 12%, suggesting that approximately 12% of the disease burden of HZ could be attributable to asthma at a population level (1)." In other words, up to 12% of all Shingles cases in children may be brought on by asthma.
Another study found that herpes zoster can occur at any time after a child has had chickenpox, or after a child has been vaccinated against VZV. (See the Pediatric Infectious Disease Journal, from May 2004) (2). In addition, "Your child is most at risk if he had chicken pox during the first year of life or if you had chicken pox very late during pregnancy." (See ChildrensHospital.org) (3).
Higher rates of Shingles may occur in children with a weak immune system. "Herpes Zoster may be associated with an immunocompromised state, for example in children who have developed herpes zoster …possible triggers include: immunosuppressive diseases, such as malignancy, or (those who) require treatment for cancer or organ transplantation or other chronic diseases, such as rheumatoid arthritis, that diminish effective cell-mediated immune responses against VZV. Human immunodeficiency virus (HIV) infection also predisposes children to herpes zoster infection. Exposure to VZV by maternal infection during pregnancy increases the risk of contracting herpes zoster in early childhood, as does the occurrence of varicella in infancy." (See The General Practice Notebook – A UK Medical Reference) (4).
"If your child has ever had chickenpox, or the chickenpox vaccine, we recommend talking to the pediatrician about Gene-Eden-VIR. This natural antiviral was proven to reduce viral symptoms in a post-marketing clinical study that followed FDA guidelines." – Mike Evans, polyDNA
A study published on August 12, 2013 in the peer reviewed, medical journal Pharmacology & Pharmacy, in a special edition on Advances in Antiviral Drugs, showed that Gene-Eden-VIR reduced viral symptoms. Study authors wrote that, "Individuals… reported a safe decrease in their symptoms following treatment with Gene-Eden-VIR (5)." The post marketing study authors also wrote that, "We observed a statistically significant decrease in the severity, duration, and frequency of symptoms (5)."
To learn more about Gene-Eden-VIR, visit http://www.gene-eden-kill-virus.com. All orders of Gene-Eden-VIR are completely confidential, and no information is shared or sold to any third party. Privacy is assured.
###
References:
(1) Increased Risk of Herpes Zoster in Children with Asthma: A Population-Based Case-Control Study. Published in September 2013.
http://ac.els-cdn.com/S0022347613002862/1-s2.0-S0022347613002862-main.pdf?_tid=a2024520-9d46-11e3-8388-00000aacb35f&acdnat=1393241424_365064e6f0ee1e7cd163c072d836d296
(2) Herpes zoster in otherwise healthy children. Published in May 2004.
http://www.ncbi.nlm.nih.gov/pubmed/15131470
(3) Boston Children's Hospital - Herpes Zoster (Shingles).
http://www.childrenshospital.org/health-topics/conditions/herpes-zoster-shingles
(4) General Practice Notebook - A UK Medical Reference. Herpes Zoster in Children.
http://www.gpnotebook.co.uk/simplepage.cfm?ID=x20090512090233630520
(5) Gene-Eden-VIR Is Antiviral: Results of a Post Marketing Clinical Study. Published on August 12, 2013.
http://gene-eden-kill-virus.com/PP_Gene-Eden-VIR-is-Antiviral.pdf
polyDNA is a biotechnology company that develops dietary supplements using the unique scientific method developed by Dr. Hanan Polansky, which is based on Computer Intuition.
In addition to his unique scientific method, Dr. Polansky published the highly acclaimed scientific discovery, called Microcompetition with Foreign DNA. The discovery explains how foreign DNA fragments, and specifically, DNA of latent viruses, cause most major diseases.
polyDNA developed Gene-Eden-VIR, an antiviral natural remedy that helps the immune system kill latent viruses.