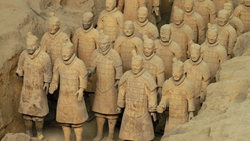 Visit the Terracotta Warriors in Xian before an epic journey along the ancient silk route to Kashgar
(PRWEB UK) 26 February 2014
On March 29 1974, three Chinese farmers digging wells for water stumbled across shards of ancient terracotta pottery. A team of archaeologists soon uncovered a vast terracotta army that had been buried with Qin Shihuangdi, the first Emperor of China, who reigned from 221-210 BCE. Today the Terracotta Army is one of the most popular attractions in China and in 2014 celebrates 40 years since its discovery.
Travellers can see the Terracotta Army with adventure holidays specialist Wild Frontiers. Its 19-day Chinese Silk Road: Taklamakan Adventure begins in Xian, with a visit to the Terracotta Army, before an epic journey along the ancient silk route. Xian, once the capital of the Chinese empire, was the starting point for the ancient silk routes which headed west into Asia through the Middle East and onto Europe. This tour follows the Chinese part of this ancient route, from Xian past the Western extremity of the Great Wall in Jiyaguan, through the vast Taklmakan Desert with its life-saving oases, and onto the fabled market town of Kashgar, where goods from around the world were traded. The tour departs on 7 September 2014 and costs £3,450 per person, including accommodation with all meals, transfers, guided sightseeing and the services of a Tour Leader. Excludes international flights.
The Terracotta Army consists of over 8,000 life-sized soldiers, each with unique facial features and positioning. It is believed that it took 700,000 workers to create the army, and they were all subsequently buried alive to keep the army's intricacies a secret.