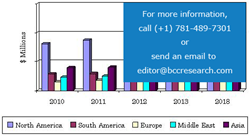 Global Market For Enhanced Oil Recovery (EOR) Technologies Expects the Market to Grow to $34.4 Billion by 2018
Wellesley, Mass (PRWEB) February 25, 2014
According to a new technical market research report Enhanced Oil Recovery: Technologies and Global Markets, from BCC Research (http://www.bccresearch.com), the global market for enhanced oil recovery (EOR) technologies was valued at $21 billion in 2012 and was estimated at $22.6 billion for 2013. BCC Research expects the market to grow to $34.4 billion by 2018, and register a five-year compound annual growth rate of 8.8% from 2013 to 2018.
Enhanced oil recovery promises renewal of critical aging and depleted oil reservoirs worldwide and is a key tool for the development of difficult-to-extract heavy oil resources. EOR technologies currently support about 5% of global oil production and are an increasingly important foundation for continued global oil industry development. Global EOR deployment has rebounded strongly in the wake of the global economic downturn, which had driven appreciable market declines in 2009. Market sales and industry growth since 2010 underscore several key features to the world market for EOR technologies.
First, EOR is being sustained and supported by what appears to be an ongoing and persistent high-oil-price environment, allowing more costly efforts such as steam assisted gravity drainage (SAGD) to remain profitable and allowing the industry to at least consider further development of higher cost offshore EOR deployments. Second, while the recent blossoming of unconventional oil production has overshadowed some regional EOR markets (especially in North America), EOR remains viable and profitable and is generally expected to remain in a sustained growth phase through the close of this decade. Third, EOR markets are beginning to gain traction even with major several major oil producing nations that have historically relied only on primary and secondary extraction. Finally, with respect to concerns over climate change and greenhouse gas (GHG) emissions, the advancement of carbon dioxide-based EOR is linking GHG emissions reduction to oil production, opening the door for increased deployment of EOR in countries with concerns over their GHG emissions.
This technical market research report from BCC Research provides an overview of the major viable EOR technologies that are currently being implemented in the oil industry. It assesses each major viable EOR technology, determines its current market status, examines its impact on future markets and presents forecasts of growth over the next five years. Additionally, this report provides a breakout analysis for solar enhanced EOR. Technological issues, including the latest trends, are assessed and discussed, as are the current and likely regulatory environments in support of this industry.
The study analyzes the industry on a global basis in terms of its manufacturing and the deployment of its technologies or products. It also examines government roles in support of EOR technologies worldwide, including regulatory support, government requirements and promotional incentives for various EOR technologies as relevant and available.
This report is intended for current and potential manufacturers and suppliers of EOR technologies as well as entrepreneurs and entrepreneurial companies interested in entering or expanding into the EOR technology sector. It will also be of interest to corporate planners and strategists, companies involved in the recovery and production of oil, EOR services providers, EOR rental equipment providers, fossil fuel energy advocacy groups and other public- and private-sector interest groups, and market analysts.