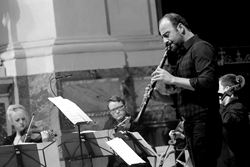 The people need to understand each other, so they can live together again. I hope that, one day, Azerbaijanis and Armenians will commemorate this tragic event side-by-side.
Paris, France (PRWEB UK) 25 February 2014
On 24 February, around 260 diplomats, friends of Azerbaijan and music-lovers listened to an outstanding concert in the historic 18th century Église Saint-Roch in the first arrondissement of Paris, organised by the French office of The European Azerbaijan Society (TEAS). This featured a rich and vibrant programme of Azerbaijani and European classical music. These works were performed to commemorate the lives of the 613 civilian men, women and children, who were the victims of the Khojaly Massacre, which occurred on 26 February 1992.
This was the worst single incident of the Armenian–Azerbaijani conflict over Nagorno-Karabakh, which raged from 1988–94, claiming the lives of around 30,000 people on both sides. The conflict remains unresolved, with around 18 per cent of Azerbaijani territory remaining occupied by Armenia. This has led 875,000 people to remain as Internally Displaced Persons (IDPs) and refugees in camps across Azerbaijan for 20 years.
Prior to the concert, Eliza Pieter, Head, TEAS France, said: "This is the saddest episode in the young history of independent Azerbaijan. We cannot forget the victims who died. There needs to be future reconciliation between the two nations. It is one of the most difficult pages to accept. When remembering this event, no-one should have a selective memory. We need to remember so that Armenians and Azerbaijanis can live together in peace.
"The people need to understand each other, so they can live together again. I hope that, one day, Azerbaijanis and Armenians will commemorate this tragic event side-by-side."
After a minute of silence in memory of the Khojaly victims, the opening work was the world premiére of the chamber version of the powerful and elegiac 'Khojaly 613', performed by Azerbaijani violinist Sabina Rakcheyeva, Syrian clarinettist Kinan Azmeh and The Solstice String Quartet. Composed by French composer Pierre Thilloy as a TEAS commission, the orchestral version was premiéred last year and subsequently shortlisted for the prestigious Victoires de la Musique Classique award.
The composer explained at the concert: "I am a frequent visitor to Azerbaijan, and Azerbaijan is in my heart. I believe in reconciliation between peoples, and I composed Khojaly 613, an orchestral fantasy, to remember the men and women who died. We need to remember their sacrifice, and I wanted to pay a unilateral tribute to the men and women whose flesh and spirit suffered during this terrible night, and to those who lost everything, even hope. We must never forget."
The UK-resident Azerbaijani violinist Nazrin Rashidova and her all-female FeMusa Ensemble headlined the concert. The programme included the French premiére of the third movement from the contemporary Azerbaijani composer Agshin Alizade's fourth symphony entitled 'alla Mugham'. Composed 30 years ago, this combines contemporary atonal composition with elements emulating the sound of mugham singers, including a wordless passage for the human voice. Mugham is one of the indigenous musical forms of Azerbaijan and generally recognised as having been developed in Nagorno-Karabakh.
FeMusa went on to perform two pieces by the renowned Azerbaijani composer Fikret Amirov, who developed 'symphonic mugham'. These were 'Elegie' and 'Mugham Poéme', both of which feature haunting melodies on the violin combined with mugham harmonies.
In addition, the programme included the second movement from Bach's sublime 'Concerto for Two Violins in D minor', featuring both Sabina Rakcheyeva and Nazrin Rashidova. Nazrin and FeMusa also performed Benjamin Britten's 'Sentimental Sarabande' from his 'Simple Symphony', reminding listeners of childhood innocence destroyed by man's inhumanity to man, and Puccini's melancholy 'The Chrysanthemums'.
The fact that scores of French riot police had to be deployed in the light of threats by militant members of the Armenian diaspora only added to the solemnity of the occasion. Pierre Thilloy's composition 'Khojaly 613' was especially poignant when played in a Parisian church guarded by French gendarmes.
Lionel Zetter, Director, TEAS said: "We are very grateful to the French authorities and the local police for ensuring that this dignified event was not disrupted. Instead of besieging the church as they had planned, the militants were reduced to handing out their disreputable leaflets at nearby metro stations. We will be holding a Khojaly Commemoration Event in Paris again next February."