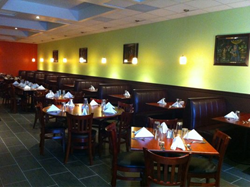 The premium finish of the table tops matched the mahogany finish of the chairs and bar stools, which was important for the owner.
Austin, TX (PRWEB) February 25, 2014
Leading commercial furniture distributor, Restaurant Furniture.net recently teamed up with Royal India Restaurant in Austin to launch a successful grand opening of its second restaurant.
Royal India recently opened a new location in northwest Austin Texas. Their first restaurant, located off Highway 290 has become a big success, so the owners opened a new location off of Research Blvd. Royal India specializes in authentic Indian cuisine. Their menu offers traditional Indian favorites such as chicken tikka masala, saag paneer and raiwale salmon. They also have many vegan options and cater to dishes from the Punjab region of northern India.
The owner contacted Restaurant Furniture.net for all of his restaurant furniture needs because of its reputation as a valued manufacturer of high quality commercial furniture. He purchased everything from restaurant chairs, bar stools and restaurant booths to table tops and table bases.
For chairs the owner decided to go with classic Vertical Slat Wood Chair and matching bar stool in mahogany finish with black vinyl seats. As with most of Restaurant Furniture.net's wood furniture, the Vertical Slat Chairs and Bar Stools are made in the USA of solid wood from responsibly harvested wood. The wood bar stools and chairs are available in 5 standard finishes: mahogany, walnut, natural, cherry and dark mahogany.
"The Vertical Slat Chairs and matching bar stools were just what the owner wanted to complete the classic look he was going for," said David M., salesperson for Restaurant Furniture.net. The Vertical Slat Wood Chair is on sale for $53.50 and the bar stools sell for just $74. Restaurant Furniture.net also makes custom finishes for an additional charge. The vinyl padded seats, which are made in the U.S.A. are available in vinyl or fabric in a wide selection of colors and patterns and can also be custom made out of any material to the customer's specifications. Solid wood seats are also available and a custom finish can be made for an additional charge.
For additional seating, the owner also decided to go with Restaurant Furniture.net's Quick Ship 6 Channel Booths. The restaurant booths are handcrafted in America and sell for $230. They come in black or wine in 42" height and can be delivered in just 7 – 14 days. Custom booths can be made in any size or shape and in any material.
For tables, he decided to go with Solid Wood Table Top, 60" in diameter in mahogany finish with bullnose edge. The table tops, which are also made in the USA sell for $384, prices start at as low as $84. The tabletops are also available in premium 2" thick solid wood. "The premium finish of the table tops matched the mahogany finish of the chairs and bar stools, which was important for the owner" remarked David. Restaurant Furniture.net also supplied the table bases.
Browse Restaurant Furniture.net's full selection of commercial grade chairs, bar stools, table tops, table bases, booths and patio furniture at http://www.restaurantfurniture.net or talk to a customer service representative at (888) 409-1115.
Royal India is located at 11150 Research Blvd. in Austin, TX. They can be contacted at: (512) 342-1985.