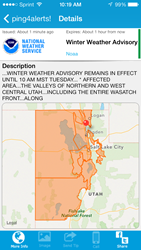 Nashua, New Hampshire (PRWEB) February 26, 2014
Emergency Management officials in Box Elder County, Cache County, Davis County, Morgan County, Rich County, and Weber County, Utah will begin using ping4alerts!, the mobile communications solution, to instantly notify citizens of public safety concerns.
"More residents have become dependent on their mobile devices, so we wanted a system that could effectively satisfy this need," said Lance Peterson of Weber County. "By using ping4alerts!, we now have the ability to send relevant, real-time emergency messages to residents and visitors who have downloaded the app. There is no signing up – they just download the free app and go."
Ping4alerts! is a free iOS and Android app that uses the location based technology inherent in today's smartphones to deliver notifications within a highly-localized area. Using any web-browser, any of the six counties can draw a shape on a map as small as a street or broadcast a message to the entire county. Ping4 Inc. delivers rich media alerts that can include images, custom audio, video and mobile web links. These features coupled with the platform's precise accuracy, insure public safety information is targeted, instant and, above all, relevant.
Utah's unique terrain makes it prone to earthquakes, floods, and wildfires. Using Ping4 Inc.'s platform, residents can receive highly targeted alerts about public safety events, evacuation notices, and road closures along with additional information such as nearby shelters and alternative travel routes. Citizens who download ping4alerts! will also receive NOAA's National Weather Service advisories for severe weather.
Ping4alerts! protects user anonymity and does not require users to provide any personally identifiable information such as a phone number, street address, or email address. These mobile notifications are delivered over the Internet through GPS, cellular, and available Wi-Fi networks.
"We applaud these six counties in adopting ping4alerts! to keep their communities safe," said CEO and President, Jim Bender. "Reaching a mobile population at the right place and time is critical. Our platform is well-positioned to advance agencies as they provide a timely and relevant communication channel to citizens, whether they be residents or visitors."
Citizens and visitors are encouraged to download ping4alerts! by simply visiting the App Store or Google Play store.
About Ping4 Inc.
Ping 4 Inc., is a Nashua, New Hampshire mobile communications startup that delivers real-time, location-based alerts to any iOS or Android mobile device. Public safety agencies license the platform to keep citizens informed of extreme weather events and other fast-moving situations. Consumers are not required to give up any personally identifiable information. User identity is 100% protected. More information is available at http://www.ping4.com.
Contact: Kyla Natali
Public Relations Manager
Email: Kyla.Natali(at)ping4(dot)com
Phone: (603) 548-8533