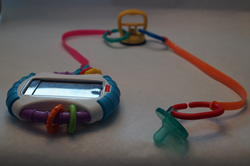 Handy The Helper has made dining out much more relaxing and germ-free!
(PRWEB) February 26, 2014
HandyTheHelper.com was launched on Kickstarter (http://kck.st/NbCyxl ) on February 21st, 2014, with a goal of raising $10,000 to begin production. Handy The Helper keeps a baby's pacifier, bottle or toy within reach with a small suction cup that attaches to a flat surface. Handy The Helper utilizes plastic rings and silicon arms to attach to the child's items. If a child drops or throws an item, the arm and ring will catch it and keep the item within reach, allowing the child to pull it back and continue use. In addition, parents who use their smartphones to entertain their baby will not have to worry about their phone being tossed onto a hard floor. Germs will also become less of a worry as pacifiers will make fewer trips to dirty restaurant floors. As an added bonus, parents could see a decrease in back pain with the reduced number of times bending over to pick up items off the ground. Knowing their baby will see less exposure to germs including staph (skin infections), pseudomonas (eye infections), and salmonella (stomach ailments), parents may find Handy's peace of mind priceless. Moms and dads will find themselves dining out and engaged in more frequent uninterrupted conversations while being less frustrated with the constant game of pick-up.
Users can obtain their Handy The Helper by contributing at the $20 reward level here (http://kck.st/NbCyxl ) and this includes free shipping (add $10 for international orders). Parents with a baby under the age of 3 years old should have one in their baby bag. Handy The Helper is also taking pre-orders on their website at HandyTheHelper.com. Most importantly, for every unit sold, the Handy creators will donate $1 to the Nemours Children's Hospital.
To learn more about Handy The Helper, contact Justin Kotek at 904-312-1323 or email him at justinkotek(at)handythehelper(dot)com or visit the website at HandyTheHelper.com.
About Handy The Helper
Justin Kotek, age 34, is the founder of Handy The Helper and has a Sociology degree from the University of Florida. His inspiration for the device was his 6-month-older daughter who constantly dropped her toys while the family was out for lunch or on a trip in the car. Handy The Helper is committed to developing new products and information that will make parents' lives easier.